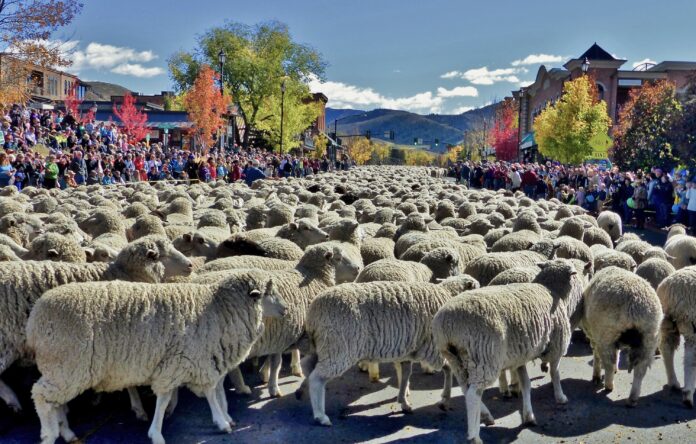 26th annual event will corral 1,800+ sheep,
100+ border collies, 80+ vendors over 5 days
By Eric Valentine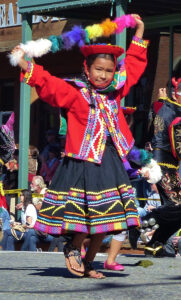 By the time this paper hits newsstands, the Valley's Oct. 5–9 landmark, historical event celebrating the 150-year-old herding of free-range sheep will have technically already begun. That's because last night, over at the Valley's also-world-class animal mega-shelter, the Trailing of the Sheep Festival kicked off with something new: a farm-to-table American Lamb dinner at Mountain Humane. Get ready for a whole lot more.
Sheep have been trailing through the Wood River Valley of Idaho for well over a century and are an integral part of Idaho's heritage. The iconic Trailing of the Sheep Festival, its 26th annual celebration,  honors this legacy—of the sheep, their herders, and our food. It has honored all of these so well over the years, this unique cultural tradition was recognized by MSN.com as one of the "Top Ten Fall Festivals in the World." Another 23 high-profile organizations have similarly—albeit more nationally and regionally—honored the festival in recent years, too.
What follows is a summary of what to expect in 2022, what's new this year, and a little more history lesson, too. Enjoy!
Honoring the Baaaaasque and More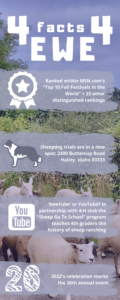 The Trailing of the Sheep Festival honors the 150-year annual tradition of moving ('trailing') sheep from high mountain summer pastures down through the Valley to traditional winter grazing and lambing areas in the south. This annual migration is living history and the focus of a unique and authentic festival that celebrates the people, arts, cultures, and traditions of Idaho's sheep ranching families, highlighting the principal contributors—the Basques, Scottish and Peruvians.
The five-day festival includes nonstop activities in multiple venues: history, folk arts, a Sheep Folklife Fair, lamb culinary offerings, a Wool Festival with classes and workshops, music, dance, storytelling, Championship Sheepdog Trials, and the always entertaining Big Sheep Parade with 1,500 sheep hoofing it down Main Street in Ketchum.
2022 Festival Highlights
If you had to put the spotlight on one festival activity, it would have to be the  Big Sheep Parade with 1,800 sheep trailing down Main Street in Ketchum. It takes place Sunday, Oct. 9 at 12 p.m. The 1,800-sheep parade will make their annual migration to winter pastures. The parade includes historic sheep wagons and participants from the Folklife Fair, each identified by sign-bearing dancers from Footlight Dance Centre. Blessing the flock this year is Rabbi Robbi Sherwin of the Wood River Jewish Community.
After the parade passes, you are invited to walk with the families herding the animals to their resting place south of town. The hosts of this year's sheep for the parade are the men and women of Faulkner Land & Livestock. John Faulkner—a third-generation sheep rancher—and his sons, Mike and Jack, have run the sheep operation since 1956. It has been headquartered in Gooding, since 1933. Most of Faulkner's sheep run in the Smoky Mountains at the head of the South Fork of the Boise River, in the hills behind Featherville and Fairfield, and through the Wood River Valley north into the Sawtooth National Recreation Area.
Other highlights include:
• Championship Sheepdog Trials featuring over 110 of the country's most talented border collies and their handlers competing for top awards (NOTE: It's at a new location this year: 2400 Buttercup Road, Hailey).
• Sheep Folklife Fair featuring the Basque, Scottish, and Peruvian dancers and musicians, sheep-shearing demonstrations, over 80 sheep and wool product vendors, children's activities and more.
• Sheep Tales Gathering will present Voices from the Land—Unique Stories of Women in Ranching, featuring women ranchers from three prominent Western sheep ranches.
• Culinary events with the For the Love of Lamb tastings, Lamb Fest at the Folklife Fair, cooking-with-lamb classes, and farm-to-table lamb dinners.
• Wool Fest featuring10 different classes and workshops.
• Hikes and Histories featuring Idaho's sheep ranchers and renowned storytellers.
• Happy Trails Closing Party in Ketchum Town Square with food and live music
For the detailed schedule, tickets, and lodging deals, visit www.trailingofthesheep.org.
What's New in 2022?
It can't be said enough: The Trailing of the Sheep Festival Championship Sheepdog Trials have a new location this year, in a large field just off Buttercup Road north of Indian Creek Road in Hailey. The development of Quigley Canyon precipitated the move, which presented a challenge for event organizers. A site was secured for his year, but a new location of at least 30 acres will need to be found to accommodate the trials in future years. Ideas anyone?
Directions: From the north or the south on Highway 75/Main Street in Hailey, head east on McKercher Boulevard via the stoplight on Main Street. Travel approximately .5 mile from Main Street to Buttercup Road. Turn left (north) on Buttercup Road at the stop sign intersection of McKercher Boulevard and Buttercup Road. Travel approximately 1.5 miles on Buttercup Road and you will see the trials event setup on the east side of the road. Follow signage, team and volunteers who will direct you to the parking area.
New Wrinkles
• Sheep Tales Gathering: Storytelling is a key aspect of the Trailing of the Sheep Festival's mission to educate, inform and celebrate the heritage of sheep ranching in the West. This year's Sheep Tales Gathering will present unique stories from four different women ranchers in the West (Marcia Barinaga of Barinaga Ranch, Julie Hansmire of Campbell Hansmire Sheep, LLC, and Andrée & Bianca Soares of Talbott Sheep Co.). Details: Friday, Oct. 7, at The Argyros, 120 Main Street South in Ketchum at 7 p.m. Tickets are  $25 and can be purchased in advance online, or at the door if still available.
• This year, Folklife Fair goers will be able to purchase food directly from the local vendors instead of getting food tickets and waiting in long lines. Enjoy delicious and creative American Lamb dishes prepared by local chefs and restaurants. This event benefits the Trailing of the Sheep Festival with unique American Lamb specials. The 2022 participants include:
   ○ Ciclo of Sun Valley—serving Lamb Chili & Quesabirria
       (lamb stew meat in a quesadilla)
   ○ KB's—serving Lamb Tacos & Cheese Quesadillas
   ○ Serva Peruvian Cuisine—serving Seco de Cordero
      (Peruvian lamb stew)
   ○ Sun Valley Culinary Institute—serving Lamb Tostadas
      with Queso Panela, Rajas, and Roasted Tomato Salsa &
      Mushroom Reuben, Slaw, 1000 Island and Swiss
   ○ Al's Wood River Sustainability Center—serving Lamb
       Gyros
• One of the most popular events during the festival is the Friday evening For the Love of Lamb event. Experience the best in American Lamb from some of the top restaurants in the Wood River Valley. Purchase For the Love of Lamb passports for $25 in advance online, which will have all the details and locations.
• The festival did not schedule any programming on Saturday evening this year so that attendees could enjoy an evening of dining at local area restaurants, many of which will be offering special lamb dishes throughout the event. Meanwhile, pre-parade sheep photography is no longer offered.  It was popular—too popular—and attracted too many people. For the safety of the sheep and the people, no sheep will be anticipated in that area at that time.
• The festival has once again teamed up with the Environmental Resource Center (ERC) and local students from the W.A.T.E.R. Club from Wood River High School to promote more complete recycling and composting at festival venues throughout the Wood River Valley. The ERC has been working at public events throughout the summer, cutting waste by an estimated 2,000 pounds. Trailing of the Sheep Festival now uses all compostable plates, napkins, utensils, and cups at the Sheep Folklife Fair and Happy Trails Closing Party, as well as serves aluminum cans of water for those who did not bring their own.