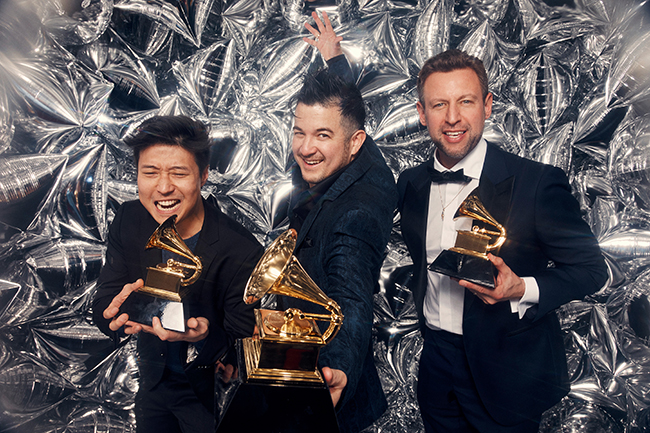 Celebrate Grammy Win at Argyros
BY HAYDEN SEDER
The classically trained string trio known as Time for Three are favorites of the Wood River Valley, playing shows at The Argyros and Sun Valley Music Festival many times over the last five years. In honor of the band's recent Grammy win for their album Letters for the Future, band members Nick, Charles, and Ranaan will play two special performances of crowd-pleasing hits at The Argyros on April 21 and 22 at 7:30 p.m. In honor of this career-defining achievement, The Argyros and partner Zions Bank are offering a special promotional price of $33 per ticket so that Time for Three's adopted Sun Valley community can celebrate this momentous occasion with them.
While described as a classical music trio, Time for Three has become known over the years for their ability to defy convention and the classical genre. Composed of violinist and vocalist Charles Yang, violinist and vocalist Nick Kendall, and bass and vocalist Ranaan Meyer, Time for Three released their album Letters for the Future last summer for which they were nominated for the first time for two Grammys: Best Contemporary Classical Composition and Best Classical Instrumental Soloist.
"Just getting nominated was a pinch-me feeling," said Meyer. "When they announced our album had won, it was like euphoria; our feet weren't touching the ground. It was just truly one of the most incredible feelings I think as a professional or as a musician we could ever imagine having."
Alongside Meyer at the Grammys were his wife and parents as well as his fellow bandmates and their families. "It was like a family celebration, kind of like when you see a baseball team win the World Series and they all jump on each other in the center of the field."
Letters for the Future is comprised of two concertos, one composed by Jennifer Higdon and the other by Kevin Puts, both Pulitzer Prize-winning composers. As a trio composed of two violinists and a bass, Time for Three is considered to be outside of the traditional classical music canon, and therefore everything the band performs they must either write for themselves or collaborate with a composer. The album's first concerto, Contact, was written by Puts about the reach for the stars or something beyond. Higdon's concerto, Concerto 4–3, was written about the Smoky Mountains in Tennessee.
"We thought, what a cool concept to have two major works, one about something here on earth and the gorgeous, beautiful, vast explorations that take place right here, and one about what could be into the future," said Meyer. "Letters for the Future was our way of putting something out there into the world to be discovered later."
Time for Three recorded both concertos with The Philadelphia Orchestra, conducted by Xian Zhang. The process of collaborating with each concerto's composer was slightly different, with Puts attending a live Time for Three show and also recording some of the band and implementing elements into his concerto, and Higdon recording the band and using it for inspiration. Meyer describes this collaboration process as a special experience where the composer constructs a piece of music based on things the band does but also things the composer likes. There is also a moment in each piece, called a cadenza, when traditionally a soloist showcases something they have written, had written for them, or improvise. "We leave wiggle room in there for us to explore, and that little part of each concerto is written by Time for Three, inspired by what the composer has created," said Meyer.
Now with a Grammy win under their belts, Time for Three have new doors opening for them, which they hope to use to leverage great new opportunities. But before things get too crazy for the award winners, Time for Three is coming to visit their adopted community of Ketchum. "The Argyros is the only performing arts center to truly want to celebrate in a timely fashion, and that just feels so good for us," said Meyers. "There's probably not another community in the whole world that is as or more meaningful to us as the Sun Valley community. We go back now, and every time we perform here it feels like we're performing together and collaborating and celebrating together."