Copy & Print and Click IT
By MIKE MCKENNA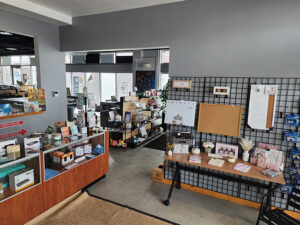 Any good relationship is well-balanced.  The services that Copy & Print and Click IT offer compliment each other extremely well. So having them both operate in one location made sense. The recent move to combine the two businesses has turned out to be a perfect partnership.
"Consolidating locations just made sense," said Chad Bertoni, the owner of both businesses. "There's great synergy with the ability to now have all these services under one roof—everything from printing to office supplies and computers to managed I.T."
Copy & Print has been serving the community for over 30 years now. Chad had long been a fan of the business, having spent 15 years providing equipment for them when he was at Fisher's Technology. When the chance to purchase the business came up in the fall of 2021, Chad and his wife, Jen, jumped on it.
They had also opened Click IT, "Your Local IT Store," earlier in the same year on Main Street in Hailey. Click IT is a national franchise that's been around for over 20 years, providing a wide variety of I.T. needs, including 24-hour customer service.
"Lots of people are working from home now and we can provide everything they need to be successful," Chad said. "We break down technology and try to make it easier to understand. Our goal is to make extremely happy customers."
Click IT can help with everything from connection and management services, to security, email hosting and 48-hour computer repair. They also offer remote monitoring and free security health checkups so they can literally fix a failure before it happens
After a couple years of running both successful businesses in two separate locations, combining them made a lot of sense for the Bertonis and for their customers.
"We can take care of all your needs in one place," Jen explained. "It's a great marriage of two businesses."
A little bit farther down River Street than some of its prior locations in Hailey, Copy & Print has not only welcomed the I.T. services and computer products sold by Click IT, they have also upgraded their equipment.
Their new state-of-the-art direct-to-print machine can be used with any substrate; glass, metal, wood, plastic, you name it. It can also print on anything from 8-by-4-feet large to just a couple inches in size. It also creates print products that are UV and weather resistant, that last longer and look better.
The new equipment is also allowing for some fun creativity. The Copy & Print staff is having fun sharing new products and new ideas with their local clients.
"The more capabilities we can bring to the Valley, the better, especially with the costs and delays with shipping, " Chad said. "You can get what you need locally, usually with quick turnarounds. You don't have to send things out and that makes a lot of sense for a lot of local businesses and nonprofits."
To find out more about what Copy & Print and Click IT have to offer, visit their store at 314 South River Street or call (208) 788-4200.