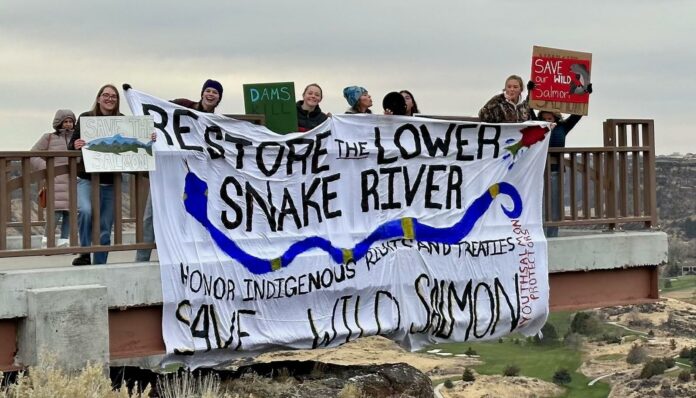 New student organization takes on crucial regional issue
BY MATTHEW LETOURNEAU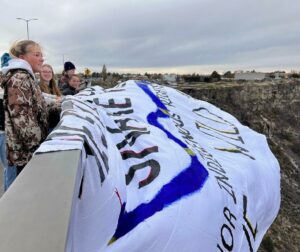 When it comes to dams in the Pacific Northwest, Blaine County high-schoolers give a damn.
Early last summer, two Wood River High School seniors, Lilia Page and Hazel Ludwig, decided to tackle a highly contested issue head-on: dams that have been a part of the landscape for decades. While participating in their school's environmental club, the pair learned about Youth Salmon Protectors (YSP), an engagement program under the Idaho Conservation League that strives to breach dams, save wild salmon and steelhead populations, and honor tribal treaties through political activism and advocacy. For Page and Ludwig, this was the perfect opportunity to make a regional difference in the fight for environmental issues. So, the two got to work, establishing a Blaine County chapter of the YSP, and quickly garnered the support of 10-15 high-schoolers who are dedicated to making a difference.
According to Page, the issue is more complex than just breaching dams. "It's about climate change, human rights, and politics. There are just so many sides to it," she said. The complexities of this issue are what make the dams critical to these high school students, but to truly make a difference, they understood they had to do more than just recognize the problem.
Coordinating with local Native American tribes, the chapter held their first protest on November 12, flying colorful banners off of Twin Falls' historic Perrine Bridge. The paper and cloth signs sported illustrations of blue rivers and lively salmon, urging the government to breach dams, save wild fish species, and restore tribal justice. The 10 students who attended succeeded in spreading awareness, placing the signs in view of hundreds of drivers, many of whom honked in support. Moreover, members of Blaine County's chapter have attended similar protests in other places, working with chapters and tribes across the Pacific Northwest in Oregon and Washington.
However, public demonstrations are only the tip of the iceberg for Blaine County's YSP. Members of the chapter recently met with a field representative of Ron Wyden, a Democratic senator from Oregon, to ask questions and urge him to take a stance on the issue. "The dams affect so many people and rural communities," Page stated. "If we need to solve this issue, we need bipartisan support from the government."
For politicians, however, demolishing dams is not a black-and-white decision. The four Snake River dams provide barging and electricity for thousands of Idaho citizens, and replacing the energy of these dams may cost billions of dollars. On the other hand, the dams may further erode aquatic ecosystems, violating federal treaties which promised Native Americans viable land for fishing. Whichever way you want to look at it, the solution to this issue is not cut and dried.
However, the YSP actively reaches out to politicians to come up with compromises and brainstorm solutions. For example, the Blaine County chapter held postcard-writing parties in the fall. These parties, which consisted of YSP members and other concerned members of the community, were dedicated to writing personalized letters to senators, legislators, and congressmen. These postcards proposed solutions and asked for constructive feedback.
Whether it's protesting, spreading awareness, or reaching out to politicians, Blaine County's chapter of the Youth Salmon Protectors is making waves. The new organization has a lot of plans for the future, including a possible collaboration with the Sun Valley Museum of Art, an education day at the Sun Valley Community School, more demonstrations, and more postcard-writing parties. However, this winter, the organization is focusing most on expanding and finding new members. No matter what, the members are committed to making a difference. Page said, "Even after the dams are breached, we won't stop fighting."