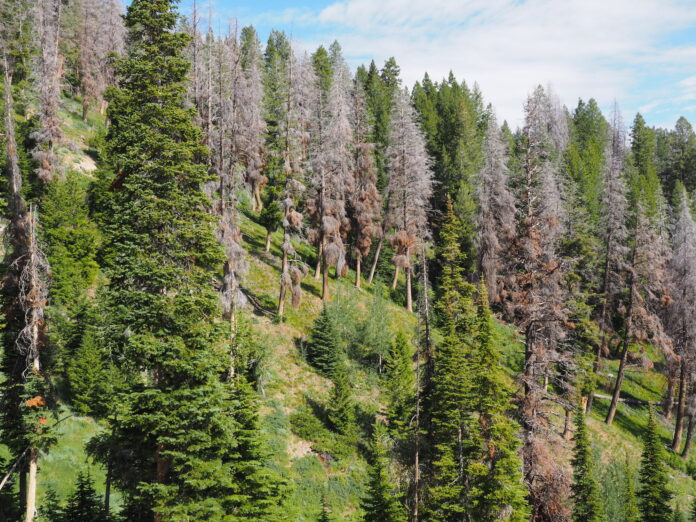 Bald Mountain's 6,000-acre forest
improvement project aims to prevent the unfathomable
By Eric Valentine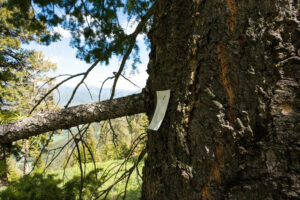 We may live in a politically polarized country, but you wouldn't know it if the park development efforts and accomplishments across this Valley served as a metric. That's especially true if you consider the area around Bald Mountain, one of the highest summits in the Smoky Mountains whose surrounding treescapes are the heartbeat of resort life here and an eye candy we really can't imagine being without.
On the heels of the City of Ketchum's successful $9 million fundraising effort to keep the pristine 65 acres known as Warm Springs Preserve pristine forever, Sun Valley Company late last week announced a multi-organizational, cross-boundary, public-private collaboration to improve and protect the health of Bald Mountain and surrounding forests. Called the Bald Mountain Stewardship Project, the ambitious effort will cover over 6,000 acres of land split between the U.S. Forest Service and Bureau of Land Management. More than 3,000 acres comprise Bald Mountain alone. The ultimate goal of the partnership? Prevent a devastating forest fire that could cripple a local economy and destroy a gorgeous viewshed for years to come.
"After three years of strategic curation, this summer commences an innovative and collaborative environmental and mountain recreation project, a 5- to 7-year partnership between Sun Valley Company (SVC), National Forest Foundation (NFF), U.S. Forest Service (USFS) and Bureau of Land Management (BLM) to improve forest health, reduce fuels and associated fire risk, and preserve recreational experience on and around Bald Mountain, home to the Sun Valley Ski Resort," the resort said in a statement to the media. "Sun Valley Company is committed to preserving the land on and around Bald Mountain to protect its recreational use and recognizes the importance of managing this land, along with its partners, to impact the sustained health of Baldy and the overall community."
Calling it a "symbiotic relationship" between the organizations, the stewardship project is an expansion of previous forest health efforts conducted on Bald Mountain, and each organization has its own particular purview. The National Forest Foundation will help drive funding and management of ongoing projects. BLM and U.S. Forest Service—the agencies that own the land—oversee special project permitting.
The three focus areas of the Bald Mountain Stewardship Project are:
• Improving Forest Health—Projects include removing noxious weeds, stapling MHC packets throughout Baldy's forest to deter insect infestations, and coming together to address and manage the ongoing threats to Baldy's forest health.
• Fuel Reduction—Bald Mountain has an uncharacteristic fire risk from diseased and dead trees. Removing the standing dead reduces associated fire risk and improves the overall resilience of the remaining healthy forest.
• Increased Recreational Use—Fuel reduction projects not only increase recreational users' safety, but also open up new terrain for glade skiing in the Frenchman and Warm Springs areas of Baldy.
Like the Warm Springs Preserve project, there is a fundraising component that calls on the residents and visitors of the Valley to pitch in financially. At the beginning of this month, Bigwood Bread in Ketchum was established as a donation center with funds received going directly to the Forest Foundation. In the interim, some of the trails will be off limits to the public while work is done this summer. Specifically, Summer Traverse, which connects River Run trail to Warm Springs trail, and French Connection will be closed to both hiking and biking. Bald Mountain Trail will be closed to bikes; however, hikers will still be able to access the area.
Southern Idaho Wood for Life
The National Forest Foundation's Wood for Life program uses wood from forest restoration efforts to fuel indigenous communities that rely on firewood to heat their homes. Small-diameter timber removed in fire prevention efforts from the Bald Mountain Stewardship Project this year will be supplying 240 cords of firewood to the Shoshone-Paiute Tribe. The wood will heat the homes of many community elders living in Duck Valley where 90% of homes rely on a woodburning stove as their primary home heating source. The 2022 efforts will also supply that same amount of firewood to the Shoshone Bannock Tribe at Fort Hall. Excess wood not going to the Wood for Life program will be sold at a minimal price to support local markets and needs with those proceeds being reinvested into the Bald Mountain Stewardship Project in 2023.
The National Forest Foundation has a dedicated Bald Mountain Stewardship Fund to support ongoing work. For more information or to contribute to the fund, please contact Dani Southard, dsouthard@nationalforests.org or (208) 720-0957.
Bald Mountain Stewardship Project—What To Expect
July 1–Ongoing
Bigwood Bread in Ketchum set up as a point of sales donation opportunity for community members wishing to contribute to the Bald Mountain Stewardship Project. Contributions will go to the Bald Mountain Stewardship Fund held by the National Forest Foundation.
July 11
Setup for work begins on Bald Mountain and trail closures begin.
Mid July
Ongoing work will be visible from Ketchum throughout the summer.
August 17
River Run Summer Series partnership day is celebrated with proceeds benefiting the National Forest Foundation and Bald Mountain Stewardship Project.
October 5
Planting day—Community members invited to plant seedlings on Bald Mountain to help with reforestation efforts