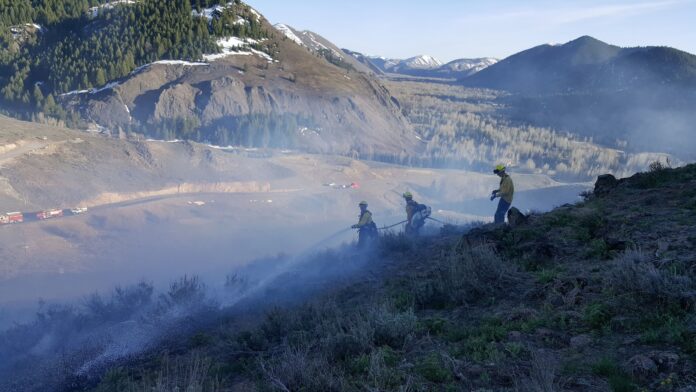 Local fire officials expect a 'pretty nasty' fire season
By Eric Valentine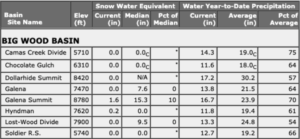 How dry is it?
It's so dry … that fire officials across the region, let alone the Wood River Valley, are preparing for record blazes, both in number and intensity.
It's so dry … that at last week's Idaho fire chiefs conference in Sun Valley, the mantra there was there's no such thing as fire season anymore, it's closer to year-round.
It's so dry … that you should seriously consider reviewing the FireWise USA fact sheet on how to protect your home from being part of any blaze this year. That one-pager can be found at this shortened URL: tinyurl.com/duhfk8m2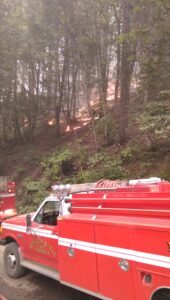 And if a back-to-back-years drought condition isn't already—literally and figuratively—adding fuel to the fire, the influx of new residents in the Valley and across central and southwest Idaho is the match that could ignite the blaze. Already by June 1, local fire officials will be banning all open burns regardless of federal guidelines.
If everything goes right—such as folks following regulations and other guidance—all of this may be looked at in hindsight as hyperbole and overreaction. But for fire officials like Sun Valley Fire Chief Taan Robrahn and Assistant Fire Chief Rich Bauer, the high likelihood of a nasty fire season is on the forefront of their minds.
"When all the factors line up just right, we're due to have a significant wildfire in the Valley," Bauer said. "We have to be on top of this because what we can't do is overstress our resources early."
Bauer pointed out that last year in April there was an early fire event out East Fork. This year, a similar fire event took place in Indian Creek in April, but a week earlier.
The Factors
In a recent arson fire that turned brushfire in Pacific Palisades, Calif., Los Angeles Fire Chief Ralph Terrazes remarked that he woke that morning and it was raining, there was a relative humidity in the 60s with winds well below 10 miles per hour all day, but that the blaze was still going strong and less than 25% contained.
"Fire just doesn't behave that way," Terrazes said.
Like our part of the West, California has experienced back-to-back years of drought. So wildfire fuel is robust. But Robrahn and Bauer point out an additional stressor here: growth.
"With so many new people, we get first-time campers, more recreational vehicles, etc.," Robrahn said. "People don't realize how many fires get started just because their [tow] chains are dragging."
Unextinguished campfires are also a common spark. According to Robrahn and Bauer, at one point last year 28 unattended campfires had to be put out by forest crews, in just one day.
"Right now, we're in the education phase," Robrahn said.
And that's why both men have been meeting with homeowner associations in the area to talk about homeowner fire prevention methods and evacuation plans. They have meetings lined up with federal officials to coordinate contingency plans and fire regulations, among other items.