Visitor center, new programs coming to 881-acre preserve
By Eric Valentine
When Lou and Cindy Lunte packed up their belongings 32 years ago and moved out of the log cabin they had built in perhaps the most scenic open space in the entire south Wood River Valley, they thought they were saying goodbye for good. Grateful to head out to promising new jobs, the young couple also felt something was incomplete.
"We built it and then only got to live there briefly," explains Lou Lunte. "So now it's kind of like coming home."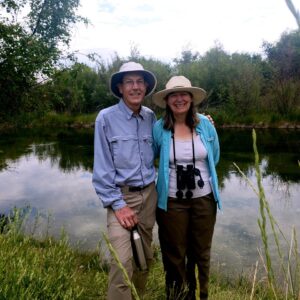 Lunte has spent the past year as the preserve manager for Silver Creek Preserve—a thriving, 881-acre high-desert ecosystem southeast of Bellevue with a creek that runs through it and an abundance of wildlife, including eagles, elk, coyotes, deer, bobcats, and moose. As many as 150 species of birds have been identified along the nature trail there and its globally unique aquatic ecosystem features one of the highest densities of stream insects in North America. That's a big deal because without the bugs there are no bigger animals, too.
And what a year it has been.
The Luntes retired from their longtime positions with The Nature Conservancy pre-pandemic and made the move back to the log cabin just west of Picabo when Lou landed the preserve manager position in May. Although the tiny visitor center there could not offer social distancing measures, the acreage offered something more northern Sawtooth recreation spots couldn't—less crowds.
"Up north was just too busy, people didn't want to travel too far, so they came south and discovered all this," Lunte said. "It seemed like every other visitor we talked to was from the Valley and it was their first time here."
Lunte could not utilize the 450-square-foot visitor center given COVID safety measures, and the outside deck—a cherished spot for overlooking the bird watching and fishing spots below—could only fit a couple people at a time. And even in non-pandemic times, the facility had to conduct group tours from the parking lot, Lunte said.
So it's with an abundance of excitement that Lunte is welcoming the visitor center upgrade now underway. The infrastructure improvements are part of the comprehensive Silver Creek Enhancement Plan, a five-year project led by The Nature Conservancy to enhance the overall visitor experience, expand community and youth education opportunities and continue restoration and habitat enhancement of the creek ecosystem.
This first portion of the project features the construction of the redesigned visitor center, which includes the creation of a new classroom facility and other essential upgrades that will increase visitor accessibility and safety and provide new opportunities for youth and community engagement. The existing structure will be replaced by an updated and modernized visitor education center that better supports community needs, designed by Ketchum-based architect Rebecca F. Bundy. TNC has hired Ketchum-based contractor Idaho Mountain Builders to oversee construction. Safer and more economical to rebuild rather than retrofit, the new center's design will aim to incorporate repurposed materials and will remain in the same location on the preserve. The new visitor center and classroom are expected to reopen in spring 2022.
While the visitor center will be closed to the public during construction, the preserve will remain open for public enjoyment and recreation. A temporary kiosk with visitor information, an updated map and electronic sign-in instructions will be available during the closure. Popular recreation activities such as fishing and hiking will remain available. For visitors' safety and to protect sensitive habitats, visitors are asked to use designated trails and access points, follow signage, avoid the construction area and use the digital sign-in upon arrival.
Upon completion of the infrastructure projects, TNC will expand community outreach and establish youth educational programs at Silver Creek that inspire the next generation of environmental advocates. The new programming will be developed with community input, including from local educators, and will include on-site educational activities for field trips, family-focused events, self-guided tours and summer internships. Through these opportunities, TNC envisions Silver Creek as a place where students, educators and volunteers will cultivate the values that lead to deep personal commitments to conservation.
"It's so important to have a space where you have them there in a group doing traditional educational opportunities," Lunte said. "You might think, living in the Wood River Valley, we all got out and enjoyed it and understood our connection to nature here. But quite a few people don't have that opportunity" unless outreach is done.
Another key element of the Silver Creek Enhancement Plan is aquatic and riparian ecosystem restoration, including work on two Silver Creek tributaries within the preserve. Restoration of these high-priority, ecologically significant stream reaches are the next step in a watershed-wide, community-based restoration effort. Through active collaboration with partners and local stakeholders, TNC's goal is to revitalize Silver Creek's diverse, spring-fed ecosystem. This will be accomplished through a combination of several actions, including: stream channel reconfigurations to restore hydrologic processes and enhance aquatic habitat; water supply conservation and active aquifer recharge projects to sustain adequate streamflow and improve water quality; and enhancement of riparian buffers through expansion and planting of diverse native vegetation. These actions will improve the resiliency of this aquatic ecosystem and its wild trout fishery, while also demonstrating the value of science-based restoration techniques and community-based solutions.
"It's really a spectacular place," Lunte said.