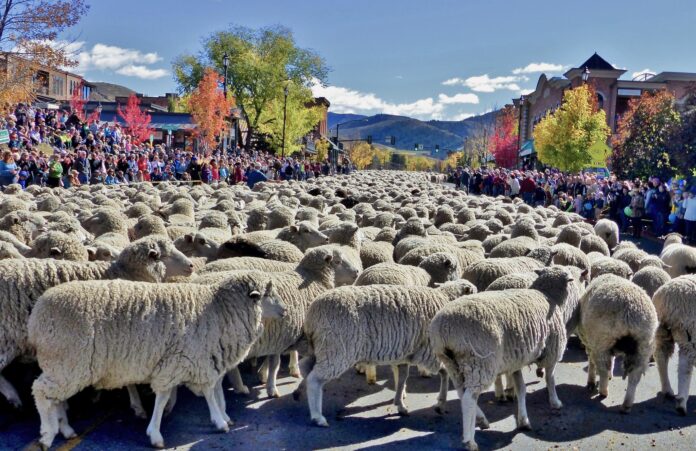 Fluffiest Festival Returns To Valley In October
BY Karen Crowson
It is estimated that upwards of 25,000 people attend the Trailing of the Sheep Festival in the Wood River Valley every October. For over 150 years, sheep ranchers have trailed their sheep from the high mountain summer pastures to their winter lambing and grazing areas to the south, passing through the Wood River Valley.
The majority of the sheepherders were Basque, as they originated from the Basque region located around the western end of the Pyrenees on the coast of the Bay of Biscay and straddling parts of south-western France and north-central Spain.  Many of the Basques immigrated to the United States during the California Gold Rush before migrating to Idaho and the Wood River Valley, finding work as camp tenders and sheepherders.
A newly developed bike path had been placed through the traditional sheep easement in the Wood River Valley and this caused conflicts to rise between the sheep ranchers, sheepherders, residents and the bike path users. At the peak of this conflict, in 1991, John and Diane Peavey, owners of Flat Top Sheep Company north of Carey, invited residents and visitors to walk with them, following the sheep through town while sharing stories of sheep ranching and herding along the way.
In 1996, Carol Waller, then director of the Sun Valley/Ketchum Chamber and Visitors Bureau, collaborated with the Peaveys, producing what is known today as the Trailing of the Sheep Festival, created to entertain residents and tourists while educating them about the culture and lifestyle surrounding the sheep.
In 2003, the CVB, the Peaveys and many volunteers turned the reins of the Trailing of the Sheep Festival over to the nonprofit Trailing of the Sheep Cultural Heritage Center, the same year the nonprofit was formed.
The festival lasts five days, held this year Oct. 4-8, 2023, with family events that include storytelling, cooking classes, culinary events, multicultural performers, Championship Sheepdog Trials, a Wool Festival and the Big Sheep Parade with 1,500 sheep traveling down Main Street in Ketchum.