For Idaho Senate District 26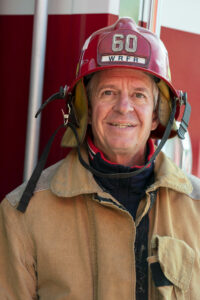 I am running to be your State Senator because I have spent my career in public service and I want to bring that same energy to Boise on your behalf -— to be the kind of politician who serves the needs of his constituents rather than his own ego or self-interest.
In the nearly three decades since joining Wood River Fire & Rescue as a firefighter, paramedic and, eventually, captain, I have worked to protect my fellow citizens — even when that has meant putting myself in physical danger — because I believe that there is nothing more important than the health and safety of Idahoans.
In 1982, I moved to Idaho chasing a girl. The girl fell in love with somebody else, but I fell in love with the place that has become my home. It has been the privilege of my life to protect and serve this community ever since.
Over 30 years as a firefighter and paramedic, I learned how to set aside differences and work hard with a team to achieve a common goal in service to our community. I learned about leadership in the face of a crisis.
But, it is not only through this work that I have been part of this community.
I was honored this year to receive the President's Volunteer Service Award for my decades of volunteer work in this community. But it was the knowledge I gained about the people, animals, and environments most in need of our protection that was the true reward during my time with the Crisis Hotline, Mountain Humane, Wood River Trails Coalition, and Wood River Land Trust.
I have also worked as a landscaper, hotel maintenance worker, graveyard baker, and chef. I still wash dishes at CK's in Hailey when they are short on staff.
I know what it's like to work multiple jobs and still struggle to make ends meet. I know that the working people of Blaine, Jerome and Lincoln counties face the same everyday challenges and are looking for representatives focused on solutions.
On behalf of all members of these communities, I want to protect:
Quality education for our children – let's lead, not trail, the nation
Access to public lands for hunting, fishing, recreation, and tourism
Preservation and management of Idaho's water resources to sustain our agricultural heritage and recreational riches
Our standard of living – access to housing and ability to afford that housing with local jobs
The freedoms of all Idahoans – including the freedom to make decisions about our bodies, marry who we want to marry, and build the families we choose
When somebody's house is on fire or they are experiencing a medical emergency, I and my colleagues put aside any differences we might have and solve the problem in front of us. We prioritize the needs of the community we serve because that is what a public servant does.
It would be my honor to continue to serve as State Senator for District 26.