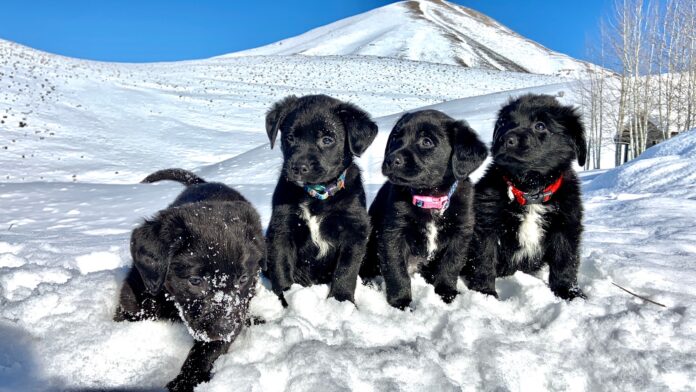 Animal shelter has one more month to earn a $25,000 matching gift
By Eric Valentine
For better or worse, something the pandemic forced upon folks was a re-evaluation of our professional role in society and what the term "essential worker" means. For Mountain Humane, a re-evaluation of the no-kill animal shelter's philanthropic role in the Valley was forced upon it only 10 months after it moved into its new 30,000-square-foot facility and just weeks before the pandemic brought unprecedented challenges to the nonprofit whose mission is: To change lives by connecting people and pets.
Since the spring of 2020 (when the COVID pandemic took hold locally), the landmark animal shelter has had to revise and put on hold a number of ways it hoped to connect people and pets. But today, Mountain Humane finds itself on solid ground as it attempts, within its Rocky's Medical Fund campaign, to raise $25,000 by March 31. Doing so triggers a $25,000 matching gift and makes it possible to continue a program that ensures every homeless animal gets the medical care it needs. The fund also provides low-cost vet services to pet owners who can't afford essential medical care for their pets.
At the same time, the organization is working with the Graybird Foundation, a nonprofit that donates marketing services to other nonprofits. It is part of a board effort to better understand the Valley's present-day understanding of and relationship with Mountain Humane, post-facility move and post-pandemic.
"We begin each client engagement with a stakeholder survey to understand the perceptions of those close to the organization, and that's what we are in the process of doing for Mountain Humane," said Shelley Willig, Head of Education Practice for the foundation.
The survey isn't available to the entire community, but Mountain Humane executive director Annie McCauley explained that people within every "stakeholder" group in the community will be invited to take part in it.
"We're trying to understand how the community sees us now in 2022, what's their perception?" explained McCauley. "Once we glean that, we can better understand how to focus our resources."
An Essential Resource
One of those things Valley pet owners learned during the pandemic was how much their pets help cope with adversity and, sadly, how much they can cost. Shelters across the country hit record numbers of surrendered pets during the pandemic, and locally things weren't much different. However, Mountain Humane was able to energize its fostering program in early 2020 and it has tripled in size.
"It absolutely exploded," said McCauley. "I think it's a given how much this Valley cares."
Something that hasn't increased at Mountain Humane is the return rate for any animal adopted from the shelter. It's something McCauley cares a lot about because it indicates a shelter is running its adoption program right.
"This is not a pet store where you see an animal, buy an animal, take it home, hope it works," McCauley said. "We're running this like an actual adoption."
Mountain Humane allows prospective adopters 60 to 90 minutes to not just meet but to also mingle with their prospective adoptees at the state-of-the-art facility. Staff and veterinarians are available for questions and consultations and, at the end of the appointment, humans and animals have a reliable framework to make their decisions.
"Our driving question is 'Will this be a successful pet family?' McCauley said. "And we keep seeing it works. Our adopters love this. Our staff loves this. Our return rates are next to nothing."
Over the next few months, McCauley will wait as Graybird Foundation workers collect data from its community-wide interviews. McCauley said she anticipates the shelter will unveil its findings and the board's recalibration based on those findings some time in June.
"I think late spring is realistic," McCauley said. "One thing I hope the community understands is that we're using every square inch of this building to save animal lives."