BY JOELLEN COLLINS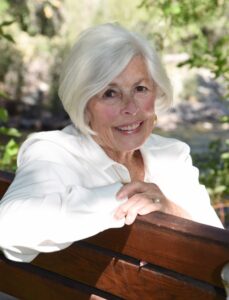 Just a few days ago I had to witness the necessary demise of my precious, small-doggy-fluff-of-love, Cleo. Expressing my sense of loss here may seem odd to both animal lovers and those who are free of that particular emotional connection, but an idea new to me fills my mind, the concept of doggy sadness; I toss it out here in case any of my readers have experienced similar occurrences.
Before I get to that subject, however, let me explain my addiction to doggy love. When I was 5 and severely asthmatic, my parents found a small terrier mix, also five, at what was then called the pound. Her name was already Lassie, and we didn't change that movie-inspired cliché. She was my tiny soulmate and companion until I turned 17. I remember her sweet face and liquid brown eyes at the side of my bed when I was ill or suffering from teenage angst over a boy or some other emotional challenge. My folks had her "put down" when I was away counseling at summer camp, so I was able to avoid that wrenching goodbye to the dog who always loved me, even if I had stayed too late at Burbank's Stough Park next to other parked couples "enjoying the view."
Since that time, I have lived with, nourished and said goodbye to many beloved dogs and a couple of cats. When I receive Cleo's ashes, I will make the sad trek to Corral Creek, where the remains of two other of my dogs reside, taken there about 10-11 years ago. Incidentally, I went there two weeks ago with my grandson Artie and my then-two dogs to show him where we used to walk a lot. It was eerily empty and almost spooky in its dryness, absent of sounds of running water and lack of even one camper. We became so upset by the gloom that Artie and I started a story about the "missing" threat, perhaps a monster (maybe even in the porta-potty) who resided there and had scared everyone away.
Now, hopefully "post-pandemic," I can honor how Cleo helped me survive the absence of my human friends. Since my Cleo was euthanized, I have naturally felt the personal grief from the reality that usually people outlive their precious dogs and cats and other pets—and mourn their absence.
This time, however, my other white fluff, a poodle-terrier mix named Suki, seems to be very upset and mourning the loss of her "sister" and constant companion of 10 years. She sleeps more than normal, is not very interested in eating, vomits, and wanders into rooms where Cleo used to be, but isn't.
Suki's sadness is yet one sign that dogs have more feelings than most people acknowledge, and even those filled with doggy love may find unusual.
As least I could pet Cleo and tell her what a "good doggy" she had been. Suki had to ride home by herself in a backseat meant for two.