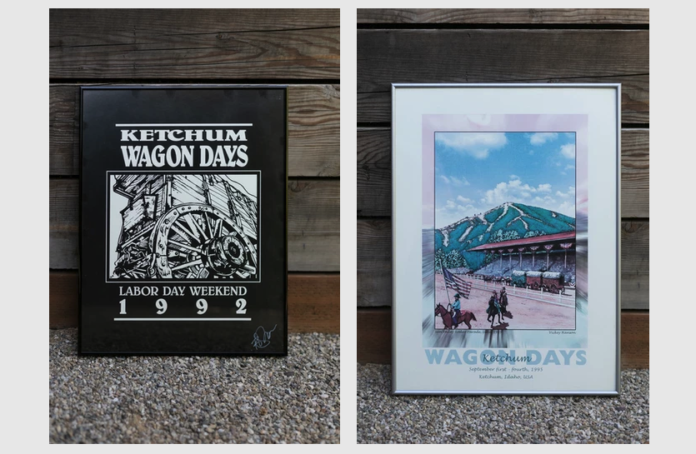 Since 1977, the Wagon Days Pancake Breakfast has been a community tradition and an important fundraiser for the Papoose Club, a local nonprofit supporting Valley youth programs. Because of COVID-19, the club has decided to put the Pancake Breakfast on hold for another year. While cancellation of the event is a blow to the organization's fundraising efforts—the two-day breakfast typically nets more than $10,000—the Papoose Club has a unique opportunity this year to recoup the funds.
Wood River Valley locals David and Renae Spaulding recently donated to the Papoose Club a 19-piece original framed collection of Wagon Days posters. The group plans to sell this magnificent collection and use funds from the sale to make up for the lost revenue of the Pancake Breakfast.
David Spaulding, who passed away earlier this year, was a pilot—a "yellow coat" with Sun Valley Company—and a fly-fishing guide. His wife, Renae, was a longtime member of the Papoose Club. The organization said it is grateful for the Spauldings' timely donation and the opportunity to place the art collection with a special collector and aficionado of Wagon Days.
The collection contains 19 framed commemorative Wagon Days posters, a number of which have been signed by the artist. With posters from as far back as the 1976 Bicentennial celebration, the collection is a lucky find for someone who wants to own a piece of local history and support the Papoose Club's philanthropic efforts at the same time.
For more information about the Wagon Days poster collection, please contact Anna Mathieu at (208) 309-1329. The full collection can also be viewed online at www.papooseclub.org/wagon-days-fundraiser.