BY MONICA CARRILLO
OUR VOICE COUNTS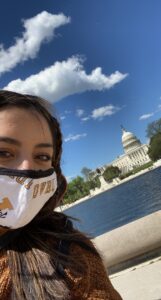 On April 27, a group of us from Idaho were able to go and fight for a new immigration reform in Washington, D.C., with United We Dream for the Butterfly Migration Project. We marched near the White House and around the streets around 4 p.m. for two hours in hopes to show our support and our willingness to continue our fight for a new citizenship act. Days later, ACLU Idaho member Rosseli Guerrero and I went to CBP (U.S. Customs and Border Patrol) to share our stories about why a new immigration reform is crucial.
With a schedule already at hand, I was able to start our event and sang my song, "Dreamer," that I wrote three years ago, when DACA was first rescinded. I never imagined myself to have this song be such a prominent factor to who I am and what I do, but it's been such a beautiful experience to have it be that way. Within these five days, not only was I able to meet many nonprofit organizations and groups, from Wisconsin, Florida and Arizona, who are fighting for this reform in their states, but I was able to see firsthand how people are battling these injustices through these marches, poems, music, and connecting with other community members. It was truly an experience I will never forget.
NUESTRA VOZ CUENTA
El 27 de abril, un grupo de nosotros de Idaho pudimos ir a luchar por una nueva reforma migratoria en Washington DC con United We Dream para el proyecto de migración de mariposas. Marchamos cerca de la Casa Blanca y alrededor de las calles a las 4 p.m. por 2 horas con la esperanza de mostrar nuestro apoyo y nuestra disposición a continuar nuestra lucha por un nuevo acto de ciudadanía. Días más tarde, Rosseli Guerrero, miembro de ACLU Idaho y yo fuimos a CBP (EE.UU Aduanas y Patrulla Fronteriza) para compartir nuestras historias sobre por qué una nueva reforma migratoria es crucial.
Con un calendario ya a mano, pude comenzar nuestro evento y canté mi canción, "Dreamer", que escribí hace tres años, cuando DACA fue rescindido por primera vez. Nunca imaginé que esta canción fuera un factor tan prominente para quien soy y lo que hago, pero ha sido una experiencia tan hermosa tenerla así. En estos cinco días, no sólo pude conocer a muchas organizaciones sin fines de lucro, y grupos de Wisconsin, Florida y Arizona que están luchando por esta reforma en sus estados, sino que pude ver de primera mano cómo la gente está luchando contra estas injusticias a través de estas marchas, poemas, música y conexiones con otros miembros de la comunidad. Fue realmente una experiencia que nunca olvidaré.