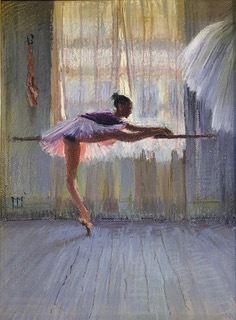 Despite the cancellation of gallery walks valleywide, Kneeland art gallery in Ketchum still has plenty of art to show off. What follows is a summary submitted by Carey Molter, director of Kneeland Gallery, of the currently featured artists there:
Renowned plein-air painter Robert Moore serves as an inspiration and mentor to many accomplished painters. His technique involves applying a multitude of oil hues onto his canvas then working a palette knife with both hands until his composition emerges from the apparent chaos of texture and color. The process is all the more extraordinary given the fact that Moore suffers from partial color blindness.
A native of Hailey, Idaho, and former apprentice of Robert Moore, Caleb Meyer has always enjoyed the rugged beauty the Northwest has to offer. A graduate of Boise State, he continued his education through an apprenticeship with renowned artist Robert Moore. Meyer compares his time in Moore's studio to the laying of a strong foundation. "The painting process is like building a house—a painter must understand the principles of design to create a strong painting, and, much like a carpenter,  must understand the principles of architecture to build a strong house." Meyer is now an established artist in his own right and features in public and private collections nationwide.
A longtime favorite of our clients, Steven Adams strives in his work to portray the elusive feeling of timelessness beneath objects that might otherwise seem commonplace. Preferring to paint a broken fence or a ditch to a majestic mountain, he endeavors to communicate the beauty in his subject matter and to haunt the viewer.