By Eric Valentine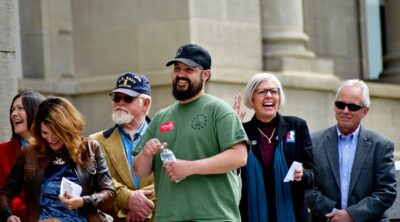 When Eric Parker's campaign signage got delivered early last week, the District 26 senatorial candidate started working on a Facebook post asking his supporters to help him locate spots around the four-county political district to post them. Before he could hit "send," the social media giant deleted him from its universe.
"I have been label-lynched for seven years, and now one of the largest companies in the world just used that to interfere in a political election," Parker said.
Facebook has not commented on the particular matter or sent Parker any messages regarding the decision. However, the company, which has been under pressure by the United States Congress to bear down on violent and misleading information in recent weeks and months, has publicly acknowledged a sweeping disabling of pages it says are movements and organizations tied to violence. As previously reported, Parker ultimately pleaded guilty to misdemeanor obstruction charges when, during the 2014 armed standoff with federal agents near the ranch of Nevada cattleman Cliven Bundy, the longtime Valley resident was photographed lying prostrate on a bridge pointing a rifle at agents below. 
What's peculiar about Facebook's move is that the company did not just remove Parker's "Real 3%ers of Idaho" page, the company removed his political page, his personal page and his wife's personal page, too.
"It was a complete knockout," Parker said. "Every photo. Every memory. It's all gone."
Adding to Parker's frustration is that he has taken strides to make it clear his organization does not advocate for violence or any sort of government overthrow.
"I've literally removed people from the organization simply for going to Portland," Parker said. "The fact that I'm one of the only broader patriot groups that's not advocating for violence and I'm the one that gets banned, pisses me off."
Parkers says he has come across a number of pages where violence is being justified but they remain untouched by Facebook.
"There's a page where people are literally calling themselves U.S. militia and it's still up," Parker said. "I just happen to be the one running for political office, and I actually have a chance to win."
Parker said he is trying to up those chances by continuing to campaign without the aid of social media. On Sept. 17 in Hailey, he will take part in a debate hosted by Central Idaho for Liberty (CI4L) and his website, parkerforidaho.com, is still up and running. He continues to make phone calls, send emails and meet personally with constituents whenever he can.