Unique x 2
By Eric Valentine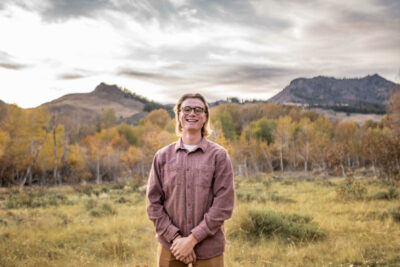 Davis Ros says his parents couldn't be more different. One has climbed the corporate ladder, the other has launched a cosmetology business. So it's natural to see irony in that their pairing created Davis, a twin.
"One thing that makes me unique is being a twin. I know that on a large scale twins aren't extremely unique, but it is a key part in defining who I am today. Brogan, my twin, is the cause for two of my best traits—a strong competitive nature and a forgiving one, which counter each other nicely," Ros observed.
Because of this, the Wood River High School senior says he is able to strive to be the best while not letting the small things affect him or destroy relationships. It's a skill Ros says has flourished as he and his twin have gotten older.
"It has helped shape me and will continue to help me grow into a valuable part of whatever community I will reside in after college," Ros said.
With a course load that includes A.P. Statistics, A.P. Human Geography, A.P. Government and College English, Ros is bound for college—specifically, a smaller college on the East Coast, most likely either Plymouth State, University of New England, or Bates College.
"I would love to major in sports management," Ros said, "which would set me up to be an athletic director or sports agent."
Ros is involved in both basketball and track-and-field at WRHS. He says the bonds he created with his basketball teammates and the healthy competitiveness instilled by his track-and-field cohorts are embedded in his character now.
"The bond we've created through all the ups and downs has the strength to continue even after we all go our own ways," Ros said.
Ros also coaches and counsels a basketball camp in the summers that he says allows him to connect with the younger generation and provide them with positive energy as they grow up.
"Also, it gives me the opportunity to promote an active life despite the overwhelming amount of things that are keeping kids inside," Ros said.
Outdoor life has been instrumental to Ros's development.
"My favorite part about living in this Valley is how connected I can be to the outdoors, whether it's going skiing in the winter, exploring the mountains while camping with my friends, or hiking/biking all the trails our Valley has to offer with my family. I am able to enjoy the amazing and beautiful Valley I call home," the lifelong Valley resident said.
That indelible feeling is something Ros takes outside the Valley, too.
"One thing I would improve in our world is how people feel about our environment. It would be more than just increasing the awareness that we are hurting our planet but growing the respect people have for it. This is important because I want future generations to be able to experience how beautiful our planet is and that starts with changing current generations' views of our world," Ros said.
One similarity between Ros's parents, he says, is their love for the mountains.
"Not only did it bring them together but it is a huge part of me. As for my brothers, our bond has gotten stronger with age. My twin and I could possibly head to school together next year," Ros said.
Editor's Note: Anyone who would like to recommend a Blaine County School District student for the Wood River Weekly's "Student Spotlight" feature should contact news@woodriverweekly.com.