On the hunt for happiness
By Eric Valentine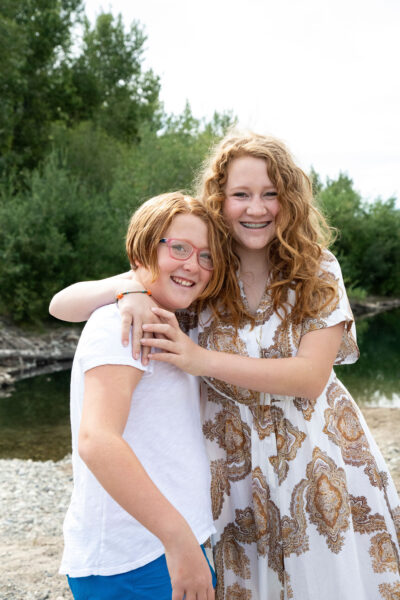 Normally, this Student Spotlight column features a high school student within the Blaine County School District. But eighth-graders bound for Europe deserve some notice.
Hunter Ervin is that Wood River Middle School student. In June, she will be headed to France and Switzerland, thanks to winning the Bob & Edie Green Writing Scholarship for excellence in French.
"I will get to experience Swiss French and Parisian French, as well as challenging myself in a five-day home stay with native French speakers. This trip for me is a way to get out of my sheltered bubble here in America and learn French the way it is meant to be spoken," Ervin explained in her essay.
It didn't take long for educators to recognize brilliance in Ervin. She has been a GATE (Gifted And Talented Education) student since the first grade and has maintained honor roll grades her entire academic career. Now in the eighth-grade, Ervin is taking Leadership, Choir,  Science, Crafts and Textiles, Honors English, Math and third-year French. In addition, she's on the school's wrestling team, participates in 4-H swine and archery programs, and has even sung the National Anthem at local sporting events.   
Ervin's hope is to take these varied skills and experiences to gain entry into Harvard University. Perhaps more challenging than that for Ervin will be choosing what field of study to focus on.
"I am interested in architecture, plant biology, music, culinary arts, clothing design, and acting," said Ervin, who has been hunting elk, deer and antelope since she was 10.
Whatever she does in the future, she hopes it involves travel and making other people happy.
"Too many people live their lives without happiness, and I would like to fix that, however I can, be it providing food or supplying resources to people that need it," Ervin said. "I have a creative mind. I do what makes me happy and I don't care what other people think of me."
Ervin's main focus right now is raising enough money so she can make the most of her trip to Europe.
"I have been busy babysitting and selling coffee to help raise money for the trip. Hangar Bread in Hailey has been so helpful and has my coffee for sale for anyone who might be interested in purchasing and supporting my language immersion trip," Ervin explained. 
As excited as Ervin is for Europe and Harvard, she will miss a few things here.
"I have a really cool 10-year-old sister, Kennedy, that will be going to the middle school next year," Ervin said. "In the Valley, I love the way that everything is within walking distance and how we don't have very much crime. I also love being able to see the beautiful wildlife from as close as my own backyard."
Bon voyage, Hunter!