Coloring academics with the arts
By Eric Valentine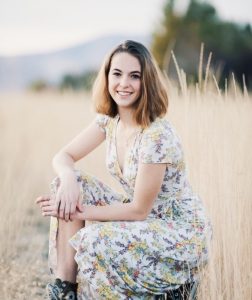 When you ask educators why the arts are as important to offer students as math and science, there are a variety of viable answers that range from the importance of creativity to the rigor and discipline students receive from perfecting a craft. Another perfectly good explanation would be the example of Wood River High School senior Samantha White.
White is in her seventh year of dancing with Footlight Dance Centre and now in the senior company of that Ketchum-based professional conservatory where she dances ballet, tap, jazz, hip-hop and modern. She is also a member of the Colla Voce choir program and the WRHS drama team. It's all a backdrop to how White forms her worldview.
"I wish people would stop responding to hate with more hate. It only creates a never-ending cycle," observes White. "And even if you are standing up for something you believe in, if you are doing it with hate, then you are just as bad as the person you are fighting against."
Perspective like that often comes from people who have spent time studying and practicing the arts, many educators say. But that doesn't mean White isn't equally focused on academic rigor. The 3.9-GPA student is currently taking A.P. Government, A.P. Literature and calculus, along with her arts courses.
"People often tell me that I have too much on my plate," White admits.
Also on her plate is an annual community service project with Footlight Dance where the company tours all of the Blaine County schools and performs a 45-minute informational show.
"This is an amazing opportunity every year for me to get involved with the kids in elementary school who want to become dancers when they are older," White said.
After high school, White plans on attending Portland State University or Seattle University and studying for an accounting degree—yes, an accounting degree. She also wants to participate in the Disney College Program and spend a few months as an intern for Disney in Florida. Her well-rounded approach is not without aim.
"I want to own a company that works with low-income families and helps them save money," White explains. "Most low-income families can't afford financial planners and I want to be able to help them deal with money and create budgets that are realistic for them."
White, whose parents met when her mom's car got stuck in the snow and her dad was there to help, is a lifelong resident of the Wood River Valley.
"When I move, I think I am going to miss the people most. I have so many amazing people in this Valley, and even as a senior I continue to meet more," White said.