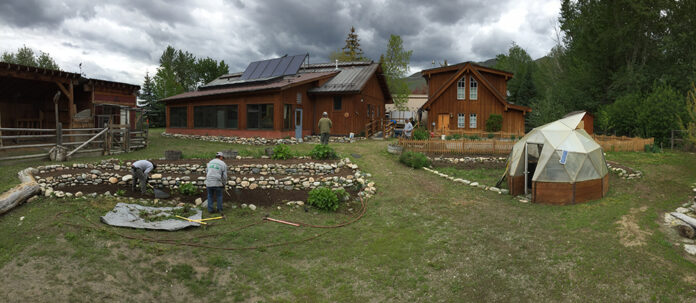 Health-and-wellness center to come later 
By Hayden Seder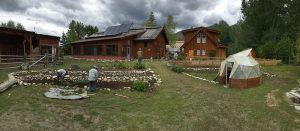 What used to be the home of the Waldorf Academy north of Bellevue is slated to become the area's latest after-school facility and eventually a health-and-wellness workshop center, too.
The county made it official last week by granting Whitney and Mat Gershater a conditional use permit for the property at 100 Mustang Lane—a nearly 1.5-acre residence that includes a 1,000-square-foot schoolhouse and garden area.
The Gershaters are well-known in the Wood River Valley as the owners of Idaho BaseCamp, an educational nonprofit near Mackay specializing in building knowledge of environment, community, and individual impact on nature. The Gershaters would like to bring that same type of education program closer to town and, specifically, to school-aged children in the south Valley.
"The program is going to look like a lot of the programs up at BaseCamp," Whitney said. "We got to thinking about how we can have more of a presence in the Valley and work with students on a regular basis where we can really have an impact using some of our core values that we instill in our organization: respect for all, courage and personal responsibility."
The program will be for up to 35 nine- to 12-year-olds to participate in a range of activities, from hiking and playing on the river to touring local businesses or helping at farms during harvest season. Arts, music and crafting will figure into the mix, too. The Gershaters said it will be called the Idaho BaseCamp Out-of-School Program.
Due to budget cuts in the Blaine County School District, less transport was available for students to get to after-school programs. Through Mountain Adventure Tours—which owns the land that houses Idaho BaseCamp—the Gershaters realized they had access to transportation resources that could pick students up from schools in Hailey and Bellevue and provide a mini-mountain adventure tour on a daily basis.
"We want the students to be active participants in the daily ins and outs of our community functioning," Whitney Gershater said of the variety of activities the program has planned. "We want to bring in local musicians. We want local artists for crafting and we want to do a closing circle each day with some mindfulness around being together and transitioning back to home."
The program will start Aug. 19, the beginning of the school year.
While many after-school programs cost money—typically up to $10 per day—the Gershaters' version will run roughly double to cover the costs of such an expanded menu of options. Thanks to a grant from the Wood River Women's Foundation, the program already has scholarship funding available to help certain families lower the cost.
"We don't want anyone to feel intimidated about asking, 'How can we make this work for our family?'" Whitney Gershater said. "I don't want anyone looking at the price and thinking it's not worth a phone call. It's worth it for your kid to have this opportunity."
As it's the first year, Whitney expects about 20-25 kids in August, all on a first-come, first-served basis. 
Since the property was previously an academic facility, there's little that needs to be done to transform it. The schoolhouse itself is already primed and the extensive gardens need to be worked on a bit so that the children in the program can do gardening there. When the after-school program is not in effect, the Gershaters plan to host workshops hosted by professional health-and-wellness practitioners. Details are still being worked out with the county.