Committed to the medical field
By Emilee Mae Struss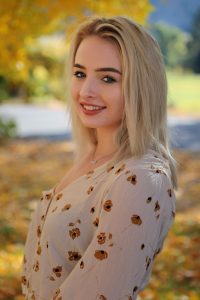 "The teachers at Wood River High School really do their best to point you in the right direction," said senior Disney McNulty. "And to them, I just want to say thank you."
McNulty will graduate this year as a certified nursing assistant. She put in the hard work—mixed with the rare opportunity to graduate high school with her CNA certification—and is thankful to be a "step ahead" in the medical field.
McNulty is originally from Albuquerque, N.M., and moved to the Valley to be closer to the family ranch, the Flying W Ranch, in Bellevue.
She says the ranch currently has seven horses, which she admires from a distance; McNulty is highly allergic to horses. She keeps a safe distance away since discovering this about herself.
McNulty may not ever be able to be a horse whisperer, but she has a strong nurturing side, nonetheless. She has spent a lot of time caring for the residents at Bell Mountain Village & Care Center in Bellevue.
"It was pretty eye-opening to do that work," McNulty said. "I did eight-hour patient care shifts with feeding, wiping, and cleaning."
This experience helped her realize what she wants—to help others. She says her main priority while working at Bell Mountain Village was to make the residents' stay a little bit better than before. She is staying in the Valley this summer and is currently working at the Coffee Corner in Bellevue.
Next fall McNulty will attend the College of Southern Idaho to take her pre-requirements for a medical program. Post-pre-recs, she is not sure in which direction she will go; maybe, she says, toward being a radiologist or surgical technician.
"I like living in the Valley because it's quiet and it's nice to have a community," McNulty said. "In larger cities, most people probably won't know who you are."
Editor's Note: Anyone who would like to recommend a Blaine County School District student for The Weekly Sun's "Student Spotlight" feature should contact Emilee Struss at emilee.struss@gmail.com.