Up to 75 candidates have applied for the executive director role so far
By Eric Valentine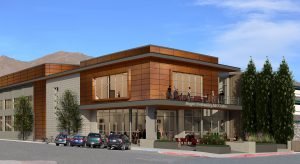 Ketchum's new performing arts center is fine-tuning its hunt for an executive director, a one-and-a-half-year search so far that has seen three stakeholders step into the role on an interim basis.
Previously, the search has involved personal recruiting efforts of existing executive directors as well as job postings within the publications of the two foremost national organizations of arts presenters. This week, job postings were sent out through regional organizations of arts presenters, as well.
"It has been a challenge to find the right leader from outside the Valley," recruiter Greg Phillips said. "I think it has a lot to do with the fact that many people in these types of roles live in large metropolitan areas and have easy access to seeing new work."
In other words, an executive director role in a large urban center is not the same role in a mountain resort area.
Phillips said the Argyros Performing Arts Center executive director search is a national one that has received at least 75 applicants to date, with a couple of candidates who show a lot of promise. But the need for a leader that has Wood River Valley roots and a local understanding is becoming more evident, he said.
"If we can find someone in the community that has that charismatic personality and successful leadership experience, we would even consider hiring someone outside the performing arts world," Phillips said. "There are a lot of aspects to this role that would transfer over well from another industry."
Sun Valley Performing Arts, a nonprofit established in 2001, opened the state-of-the-art performing arts center in Ketchum in 2019. The 25,000-square-foot facility is named after its founding benefactors, Julia and George Argyros. It includes a flexible 450-seat theater, studio/theater, a lobby/café and a large outdoor plaza. The Argyros presents local, national and international artists, ensembles and events.
The executive director would be responsible for the overall operation of the organization and facilities, reporting to the board of directors and overseeing critical components of the center, such as marketing, event promotion, and business development. The Argyros is seeking someone with at least a bachelor's degree and five years of experience as a director of a performing arts presenting or producing organization. The center is promising a "significant salary, based on experience and expertise, and a comprehensive benefits package." Relocation assistance, if needed, is available.
"We have a great staff here," Phillips said. "We just need one more."