By MIKE MCKENNA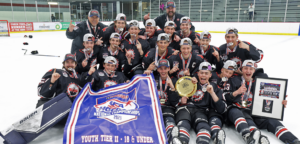 Independence Day is a day to honor everything that makes America great. We're a country that is about chasing dreams. We're about overcoming obstacles and the odds. We're about putting in the effort and pulling together to achieve greatness.
That's why it's fitting that this year's Grand Marshals for Hailey's Annual Days of the Old West Fourth of July Parade are the Sun Valley Suns National Championship 18U team.  The scrappy and talented squad for our small community was able to beat the best Tier II teams from Delaware, Georgia, Montana, Oregon and Wyoming to become the first high school team from Idaho to ever win a national championship.
"I'm just so proud of these kids," Mayor Martha Burke said.
Hailey's Fourth of July Committee selected the team as Grand Marshals because their success was supported by our community. The players have been helped for years by their parents, coaches and the Suns hockey family. From Mighty Mites to National Champs, the Suns team is a symbol of the best of what Hailey is all about.
"I'm honored to have been selected as Grand Marshals. I'm proud of the team for all their hard work and so thankful for all the support the community has given us," Blake Jenson, head coach, said.
"I am proud to have gotten to win something for more than just our team. We were excited to represent our great Valley and we did it not just for ourselves but for all of our families, friends and fans. I would like to thank all of our fans for their support and generous donations," Tommy Nisson, assistant captain, said.
There's nothing we love more in America than a reason to celebrate. That's why the Suns are the perfect Grand Marshals for this year's Independence Day festivities.
Hailey's Fourth of July parade has been happening since the late 1800s. The entire celebration has been lauded as one of the best in the West. The Los Angeles Times has called Hailey's events an "old-fashioned Independence Day bash," offering "maximum fun for your Fourth." And this year promises to be no different.
From the popular Antique Fair at Roberta McKercher Park and the legendary Sawtooth Rangers Rodeo, to a proposed new Fun Run and then the parade on Main Street, followed by a new Kids Festival at the Life Church and live music and a car show at Riverfest, it's a full day of small-town fun. The icing on the cake is, of course, the annual fireworks show.
Fireworks have been part of Fourth of July celebrations since the inaugural one in 1777. But we can't put them on or make all the other fun stuff happen without the support of our community.
That's why The Chamber is tasked with raising funds for the fireworks and all the Fourth of July festivities. To make a donation, become a sponsor, to register for the parade or find out more about everything that's happening, please contact Info@ValleyChamber.org, call (208) 788-3848 or go to ValleyChamber.org.