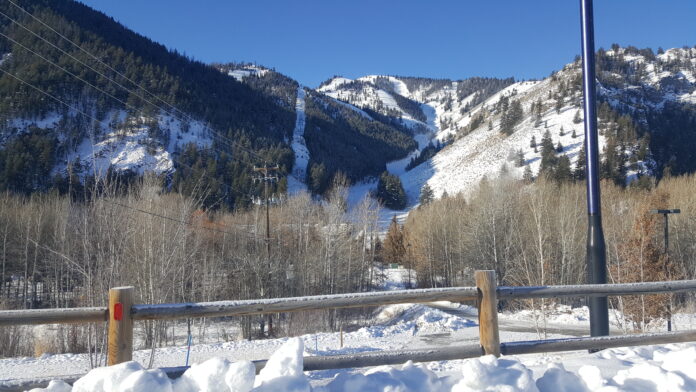 By HAYDEN SEDER
Baldy officially opened for its 87th winter season on Thanksgiving Day, as is tradition. Enthusiasts carved their first turns from top to bottom on the River Run side of the mountain, enjoying good conditions thanks to early snowfall and Sun Valley's snowmaking skills. The Warm Springs base area is scheduled to open on December 9, as is Dollar Mountain.
The first destination ski resort in North America, Sun Valley continues to draw crowds each winter for some of its more distinctive offerings. This is the third year in a row that Sun Valley has been voted the best ski resort in the U.S. by SKI Magazine for taking the top spot in categories like Overall Satisfaction, Lifts, Dining, and Local Flavor. Other factors, like notoriously short lift lines, long, fast groomers, and steep terrain keep skiers and snowboarders coming back season after season. So, whether it's your first winter on Baldy or your 30th, there's new information this season for all.
New Partnerships
After experimenting with being a member of the EPIC Pass, Sun Valley Resort has joined the IKON Pass for the 2022–2023 season, which gives passholders access to 50 resorts across five continents, 10 countries, 15 states, and four Canadian provinces. There are a few options for those who want to ski at Sun Valley through IKON; the first is the original IKON Pass, which gives unlimited access to 14 destinations and up to seven days at 37 destinations, including Sun Valley. The IKON Base-Plus Pass is similar but slightly more limited, with unlimited access to 13 destinations and five days at 32 resorts, including Sun Valley. Back this year is a partnership with the Mountain Collective, which Sun Valley has had an on-again, off-again relationship with. The Mountain Collective Pass is roughly $600 and allows passholders two days of skiing at 25 resorts, including Sun Valley, and 50 percent off tickets for any additional days skied.
Better Tree Health = New Terrain
In summer 2022, a multi-year stewardship project in partnership with Sun Valley Company, the National Forest Foundation, U.S. Forest Service, and Bureau of Land Management kicked off to strengthen tree life on Bald Mountain by removing dead and dying trees. Glading these trees also provides new terrain for skiers and snowboarders — this past summer's efforts resulted in an additional 79 acres of new, inbound skiing, 54 of which are in the Flying Squirrel-Scorpion area of the mountain.
Can't-Miss Eats
If this is your first year on Baldy, or maybe you just haven't been too culinarily inquisitive, here are some of the best eats to fuel your next run. For lunch that won't break the bank, the build-your-own tacos bar at the Lookout Lodge at the top of the mountain is hard to beat. For a more sophisticated lunch (or dinner) experience, you can dine at The Roundhouse, perched halfway up the mountain. The fondue is famous, so order that in addition to upscale entrées and cocktails; also, reservations are recommended. If your lunch break finds you at the base of Warm Springs, head across the street to local favorite Irving's, a small red shack serving hotdogs that'll only set you back $6. Down the street from the Warm Springs Lodge is one of the best après spots in town: Apple's Bar & Grill. Grab a burger and a pitcher of beer or mimosas to split with some friends. Sitting on the pavers with a pitcher at either River Run or Warm Springs base when the weather is nice is also a great way to get some sun and run into friends.
Playing Host
It was recently announced that Sun Valley will host the 2023 U.S. Alpine Championships from April 2–5, 2023 (as well as April 2024, dates TBD). After the success of previously hosting the Championships in 2016 and 2018, and the establishment of courses on the Warm Springs side of Bald Mountain, Sun Valley was awarded the honor for the 2023 event. Athletes, including local U.S. Alpine Ski Team members Ryder Sarchett, Jack Smith and Dash Romanov of the Sun Valley Ski Education Foundation, will compete in slalom, giant slalom, and super-G events.
It's going to be a great season in Sun Valley. Get after it!