By MIKE MCKENNA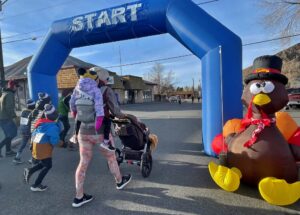 It's pretty easy to feel thankful when you're lucky enough to live in the Wood River Valley. Still, it's nice that we set aside one day a year specifically to be thankful.
Thanksgiving is always something special around here. It's usually the official start to the ski season and whether there's rain, snow or sunshine, hundreds of community members kick off the holiday season by trotting around Hailey.
The 19th Annual Hailey Turkey Trot will have a new starting spot this year. After years of starting in front of Sturtevants, this year the 5k will start and end at the new Hailey Town Center West location behind the Hailey Public Library. There will also be two starting times: 9:30 a.m. and 10 a.m.
The Chamber is also happy to announce that, thanks to the generosity of an amazing local, a keg of Sawtooth Brewery beer is being donated for post-race cheers with proceeds going to support the Blaine County Charitable Fund and The Senior Connection.
   The first 500 people to sign up will also receive commemorative Turkey Trot socks. Sign up for the race at ValleyChamber.org
Sun Valley's 87th ski season also begins on Thanksgiving Day. The early snowfall has skiers and riders excited for another season on the slopes. This should be the last season for the Greyhawk and Challenger lifts as a new top-to-bottom chair is scheduled to be put on the Warm Springs side of the mountain by next season.
The reigning SKI Magazine Reader's Choice for Best Resort will once again host the U.S. Alpine Nationals in April. Stay tuned for more information about that fun-filled event. It should be a blast, just like it was the last time Sun Valley hosted the best skiers in the country back in 2018.
The annual Hailey Holiday Tree Lighting will also take place at Town Center West on Friday, Dec. 2 from 4-6 p.m. Santa will be escorted in by the Hailey Fire Department and there will be cookies and hot cocoa for the kids. Live Christmas music will be performed and local vendors will be selling their wares. New this year, The Mint will be hosting an after-party for more holiday cheer. To find out more, call (208) 788-3484 or contact info@ValleyChamber.org
Correction from the last Chamber Corner: It turns out our community is blessed to have two bookkeeping services with similar names.
Wood River Bookkeeping is owned by Michelle Bobbitt and has been helping local customers for over a decade. Michelle is an Enrolled Agent with the IRS and you can find out more about her business by calling (208) 788-0253.
Valley Bookkeeping is the name of Pat Bowton's new business. Pat was featured in the last Chamber Corner and can be reached at (407) 496-7665.