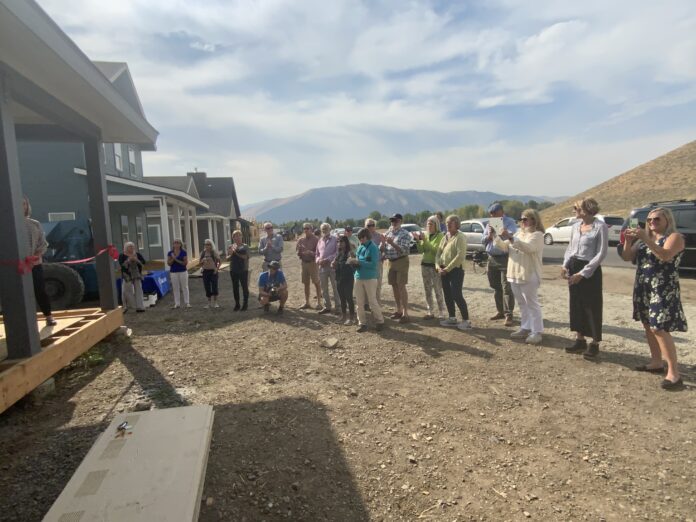 As the construction of four, three-bedroom, single-family homes in Quigley Farms dedicated for St. Luke's Wood River employees near completion, St. Luke's, St. Luke's Wood River Foundation and ARCH Community Housing Trust (ARCH) held an open house and ribbon cutting for board members and invited guests, including elected officials from Blaine County, Hailey, Ketchum and Sun Valley. 
The three organizations announced a partnership and broke ground on these first four units at the end of last September, which are slated to be completed in the next several weeks. The homes will be long-term rentals for St. Luke's Wood River (SLWR) employees who meet criteria as determined by the hospital and the leases will stipulate that continued employment is a condition of housing. 
"Our work is not done. St. Luke's continues to actively pursue several other strategies to secure additional access to housing to support hospital employees and their families," Almita Nunnelee, COO/CNO of St. Luke's Wood River, said. 
Megan Tanous, chief development officer at St. Luke's Wood River Foundation, added, "St. Luke's Wood River has always provided exceptional healthcare to our community. Donors have wanted to give back, honor their caregivers and heighten the level of care for the entire community through generosity. It is their generosity that put us in a position of strength to make this project happen and happen incredibly fast. Generosity has never been more important."
To help support housing for healthcare workers, visit www.slwrf.org or contact Megan Tanous at (208) 727-8444.