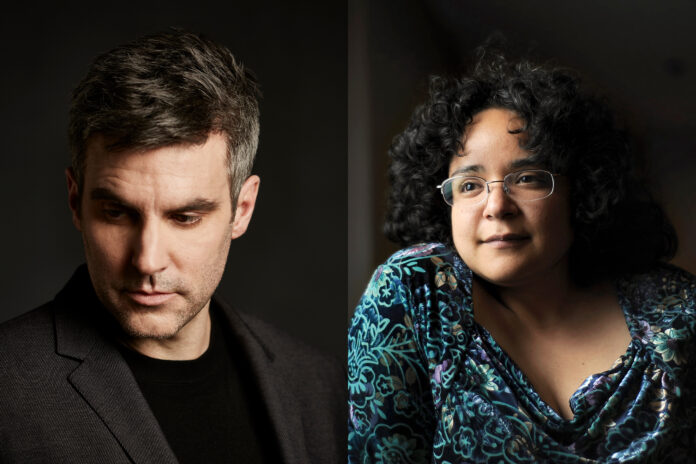 The Sun Valley Music Festival's version of Bersteinesque lectures, Upbeat with Alasdair, hosted by music director Alasdair Neale, will feature two special guest speakers: Pulitzer Prize-winning composer Kevin Puts and Grammy-nominated composer and pianist Gabriela Lena Frank. Both guests will share their creative experiences and musical influences and provide previews of their works to be performed during the Festival's 2022 Summer Season. 
Puts has been hailed as one of the most important composers of his generation. He has written operas, symphonies, and concertos which have been performed and recorded by eminent orchestras and soloists throughout the world. Sun Valley audiences may be familiar with Puts's work. His Hymn to the Sun was commissioned by the Festival for the opening of the Sun Valley Pavilion in 2008. His latest work is a concerto titled Contact. It premiers at the Festival's Aug. 13 concert. 
The event will take place live, in person and broadcast online, on Friday, Aug. 12, 11 a.m. at The Community Library's lecture hall. The hour-long talk may be enjoyed in person at The Community Library lecture hall (415 Spruce Ave., Ketchum) or by live broadcast on the Festival's website (svmusicfestival.org) and YouTube channel (youtube.com/c/SunValleyMusicFestival). Doors open at 10:30 a.m. (Mountain Time). The presentation begins at 11 a.m. (Mountain Time). Reservations are required to attend in person and can be made online at svmusicfestival.org or by contacting the Festival office at info@svmusicfestival.org or (208) 622-5607. Reserve your seats early, as space is currently limited to 120 people in the Library's lecture hall. Reservations are accepted in the order they are received; reservations made online are received faster. 
Alasdair's talks provide a behind-the-scenes view of Festival programming. In this case, it will be an opportunity to explore two pieces to be performed this summer from each composer's perspective and learn more about how contributions from contemporary composers help the art form continue to evolve. 
"We're not museums—don't forget, Beethoven was new music once," said Neale.