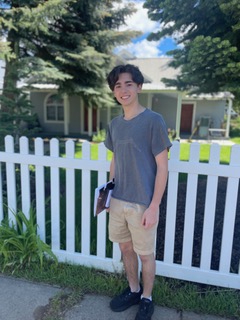 17-year-old, MSCL House turn tragedy into triumph
By WRW Staff Writer
For many high school students, "Community Service" is something that checks a box—a few hours of volunteering somewhere that they hope looks worthwhile on a college application or résumé. But Matt Letourneau, 17, wanted his service graduation requirement for St. Paul's School in New Hampshire to be much more than a requirement. The son of a father who lost his battle with substance abuse when he was only eight years old, Matt was drawn to understanding what options were available to those struggling with addiction. He learned what was effective, what wasn't, and what second chances were all about.
A Valley native, Matt knew Sonya Wilander through family friends, and the more he learned about her work at Men's Second Chance Living (MSCL House), in Hailey, the more interested he became in contributing to the organization. When at home last March, he began to volunteer at MSCL House through grant writing and learning more about the program. However, it was his interaction with the residents of MSCL "muscle" House that truly drew him in. The men welcomed him, shared their stories, and quickly made Matt feel a part of things. He admired the men's hard work, their self-awareness, and he began to understand—just a little— the immense challenges that the men faced in moving from substance reliance to finding the way forward.
Solving a Problem
When he returned to school after spring break, Matt remembered that St. Paul's School awards the Kiril and Kate Sokoloff Grant for Compassion and Kindness each year to a student who seeks to promote those qualities in their wider community and demonstrates a vision to make the world a better place through service for the good of mankind. The grant monetarily supports a special project proposed by the student. Matt applied and was awarded a grant to establish the Mind Muscle Library at MSCL House, creating a physical and virtual space that will enable the residents to access countless books and publications. The grant money will pay for Kindle readers, e-books, and many traditionally printed books. Genres will be determined by the residents, who can request to which ones they would like to have access.
Matt, a voracious reader, also plans to add a shelf of his personal recommendations: mostly dystopian novels, classics, and history. He will also work with the Hailey Public Library to sign the residents up for the many services available to the community. The purchasing of titles and materials will be done through local businesses whenever possible. Matt will enlist the help of the residents in creating the space and will participate in Book Club meetings. He will also create a short film documenting the building of Mind Muscle Library and highlighting the work of MSCL House.
Sharing a Message
In addition to pursuing the Sokoloff Grant, Matt's interaction with MSCL House shaped his academic work during his junior spring term. He wrote a research paper discussing alternatives to punishment for those struggling with substance abuse, using MSCL House as a model. He interviewed Judge Ned Williamson about the efficacy of the model of drug courts and sober houses. Matt also participated in a competitive speech contest at school where he spoke about second chances and what he was learning from the residents at MSCL House. He took first place.
Matt is thrilled for the opportunity to continue to work with Men's Second Chance Living this summer. In addition to the Mind Muscle Library project, he will also be helping with grant writing, assisting with events and fundraisers, and will be available for whatever else needs to be done.
"I feel so honored to get to know the residents at MSCL House and to get to work on this project with them," Matt said. "I am really grateful to Sonya for giving me the opportunity to spend my summer with Men's Second Chance Living. I can't wait to see what we create."