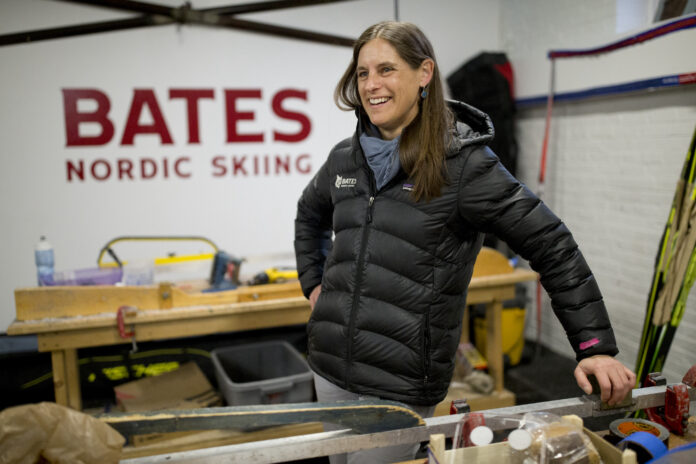 SV ski foundation welcomes Becky Woods as new program director
By Eric Valentine
The Valley's nonprofit ski organization that has produced 25 Winter Olympians announced two high-level changes this week.
Effective August 1, 2022, Becky Woods will step into the role of Cross Country Program Director at Sun Valley Ski Education Foundation (SVSEF). Current Cross Country Program Director, Rick Kapala, will be assuming a new role with SVSEF as the Director of Sport Development. In this new role, Kapala will lead with a broader strategic lens for SVSEF, alongside event management and fundraising for the cross country community.
Woods comes to SVSEF from Bates College in Lewiston, Maine, where she served as the Head Men's and Women's Nordic Ski Coach, alongside additional leadership roles from 1994 to 2022.
"We are thrilled to welcome Becky Woods to the team at SVSEF and to embrace her exceptional leadership and coaching experience at the helm of our Cross Country programs," said Scott McGrew, SVSEF's Executive Director. "Her proven ability to guide athletes in the pursuit of excellence both on the trails and in the community, along with her deep appreciation of the Nordic culture and the passion behind the sport, will make Becky a tremendous asset for our cross country teams and for our greater ski community in the Wood River Valley."
A Proven Record
Woods' leadership as a collegiate coach, mentor, administrator, and teacher offer a unique skill set and balance to the Cross Country Program Director position at SVSEF. In her role as Head Men's and Women's Nordic Ski Coach at Bates College, Woods was responsible for leading and managing all aspects of a successful Division I Nordic Ski Program, while bringing staff, athletes, and volunteers along to carry out a clear mission as a top priority. She attributes much of her success in her career to fostering a culture of trust, respect, and support, and understands the importance of imparting a true love of skiing and a respect for the process it takes to be successful.
"I am humbled to have the opportunity to lead this great group of SVSEF coaches and athletes," said Woods. "It is evident there is expertise, talent, and support within the organization—and a true sense of community. Having spent time in the Wood River Valley, I am honored and excited to become a member of the team and help SVSEF Cross Country continue to grow and excel as a ski community."
In Woods' role as SVSEF Cross Country Program Director, she will provide program-wide leadership and day-to-day management while supporting the overall vision and mission of the organization. She will be instrumental in the successful recruitment, training, and retaining of a world-class coaching staff and the ongoing development of an athletic program that supports each participant in achieving their personal and athletic potential.
Big Skis to Fill
Founded in 1972, the SVSEF Cross Country Program has consistently been recognized as one of the best in the country; most recently as the 2021 USSA Cross Country Club of the Year, and in 2022, the Junior Girls brought home their third consecutive National Championship team title. From the youngest Devo kids to elite athletes at the Comp Team, Post-Grad and professional level, the program is 250 athletes strong and steeped in Nordic traditions driven by a strong sense of family, community, competition, and camaraderie.
During the 2021/22 season, three members of the XC Gold Team competed in the Beijing Olympics and Paralympics, and two additional SVSEF alumni were named to the U.S. Cross Country Ski Team. For the upcoming 2022/23 season, five athletes from the SVSEF Cross Country Program have been named to the U.S. Cross Country and Para Nordic Ski Teams.