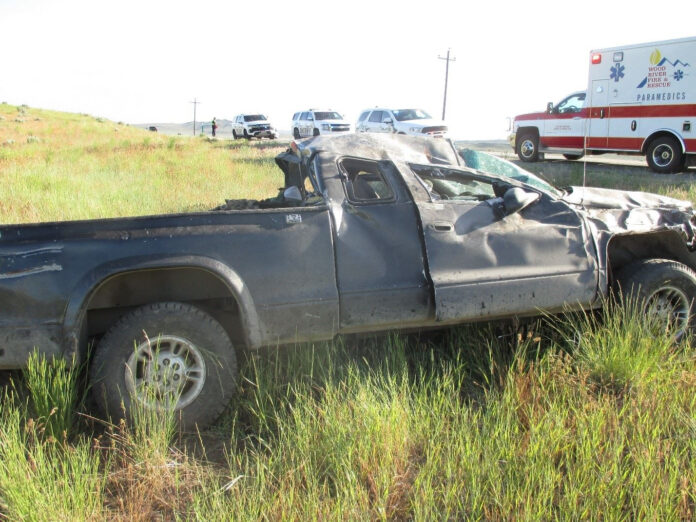 On Monday, June 20, at approximately 4:46 p.m., Blaine County Sheriff's deputies responded to a three-vehicle collision on State Highway 75 at Zinc Spur Road north of Hailey.
The crash scene investigation determined that Daniel Jacob Stanhope, age 5, of Shoshone, was traveling southbound on Hwy. 75 in a red 2014 Chevrolet Cruze with a female passenger when he stopped due to traffic in the lane ahead of him. Molly J. Doyle, age 19, of Bellevue, was traveling alone in a white 2003 Subaru Legacy; she stopped behind Stanhope. Felix Milton Pariona Hauman, age 32, of Bellevue, traveling in a gray 2006 Saturn Vue with two male passengers, failed to stop and collided with the rear of the Doyle Subaru, which pushed it into the rear of the Stanhope Chevrolet. All three vehicles were traveling southbound.
A front-seat passenger in the Saturn received non-life-threatening injuries and was transported to St. Luke's Wood River Medical Center by ground ambulance. All of the occupants reported wearing seatbelts. The Subaru and the Saturn both sustained substantial damages and were towed from the scene of the crash.
Pariona Hauman was cited for Failure to Purchase a Driver's License and Following Too Closely. 
On Thursday, June 16, at approximately 6:33 p.m., Blaine County Sheriff's deputies responded to a single-vehicle injury rollover crash on State Hwy. 75 south of East Magic Road (milepost 98).
A crash scene investigation determined that a 17-year-old juvenile from Twin Falls was driving a 1997 brown Dodge Dakota southbound on Hwy. 75 with two passengers. The Dakota traveled off the right shoulder of the road, then overcorrected, rolling approximately three times, crossing both the north and southbound lanes before leaving the highway on the east side. 
Passengers Manuel Antjuan Astoga-Zepada, age 18, and Nezerah John Reed, age 24, both of Twin Falls, who were not wearing seatbelts, sustained injuries in the crash and were transported by ground ambulance to St. Luke's Wood River Medical Center. The juvenile driver, who was wearing a seatbelt, refused medical treatment.
The vehicle sustained substantial damage and was towed from the scene.