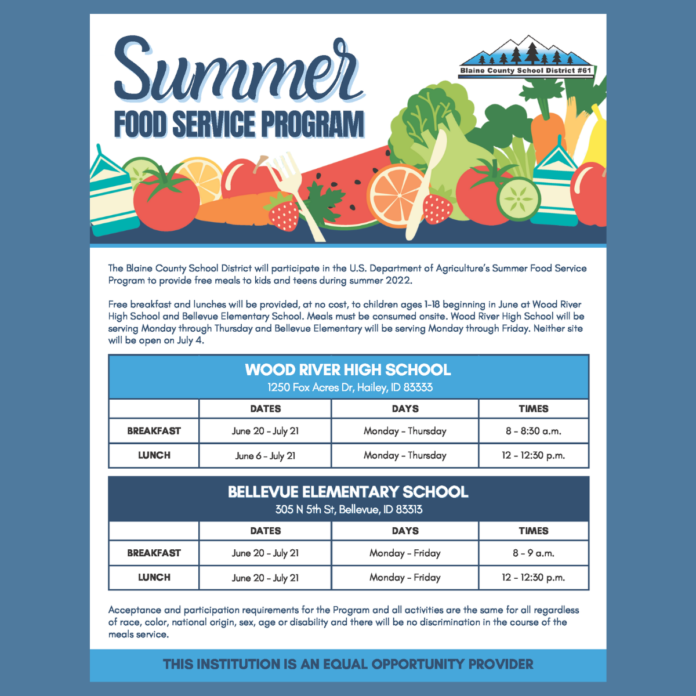 Amid inflation worries nationwide, BCSD approves two critical services—preschool, food—at no cost.
By Eric Valentine
Already pursuing the development of affordable housing and already approving an affordable housing stipend for qualifying teachers and staff, Blaine County School District over the last 60 days has entered the universal pre-K and subsidized food arenas—more or less.
Specifically, the BCSD trustees approved a preschool tuition waiver for all children in the community, regardless of socioeconomic status. The board also approved participation in a federal program to offer breakfasts and lunches during the summer school session at no cost.
Universal Access
So-called universal pre-K is something already practiced in 13 other countries around the world and is widely cited as a factor in increased vocabulary and higher pre-literacy and pre-math skills. Supporters for funding free preschool programs point to such data when advocating for equal access to an optimal education. Easier access to pre-K also solves—to some degree—a problem for parents who commute to work during the summer but can't afford daycare.
"We are thrilled to share that preschool will now be free of charge for all children, regardless of their families' income status," said Adam Johnson, BCSD assistant superintendent. "We encourage all parents, guardians and caregivers to check out the options and get the registration process started today."
Last September, trustees approved a preschool tuition waiver for the 2021-2022 school year, which was done primarily to offset impacts from the pandemic. This was recommended by staff as the average revenue generated over four years was $29,627 and average expenditures were $423,924—a meager 7% of the overall expenditure.
"While the revenue represents a relatively small impact on the district budget, the expense for the individual families is significant," staff said in their recommendation to the boards that they approve a waiver of preschool tuition beyond the 2021-2022 school year.
Preschool will be available at Bellevue Elementary, Carey School, Hailey Elementary, and Ernest Hemingway STEAM School. To register for fall 2022, parents and guardians should visit the school they would like their child to attend anytime between 8 a.m. and 3 p.m., Monday through Friday. Eligible preschool students must be four years old by Sept. 1.
Additionally, BCSD is still accepting registrations for kindergarten, which is available at all of the campuses mentioned above, along with Alturas Elementary in Woodside. Kindergarten students must be five years old by Sept. 1. To begin the kindergarten registration process, please visit blaineschools.org/domain/687.
Free Lunch (and breakfast too)
Regarding the summer school free meals program, BCSD will be getting some financial support from the federal government, specifically the U.S. Department of Agriculture. The USDA's Summer Food Service Program provides free meals—breakfast and lunch—to kids and teens (ages 1–18) during summer 2022.
The meals will be provided beginning in June at Wood River High School and Bellevue Elementary School. Meals must be consumed onsite. Wood River High School will be serving Monday through Thursday and Bellevue Elementary will be serving Monday through Friday. Neither site will be open on July 4.
"We are pleased to once again participate in this USDA program and provide our students and community members with this valuable resource during the summer months," said Jim Foudy, BCSD superintendent. "We encourage all our families to check out this program and consider participating. Our food services staff is looking forward to seeing everyone at our sites this summer."
Acceptance and participation requirements for the program and all activities are the same for all, regardless of race, color, national origin, sex, age or disability, and there will be no discrimination in the course of the meals service, the district said.