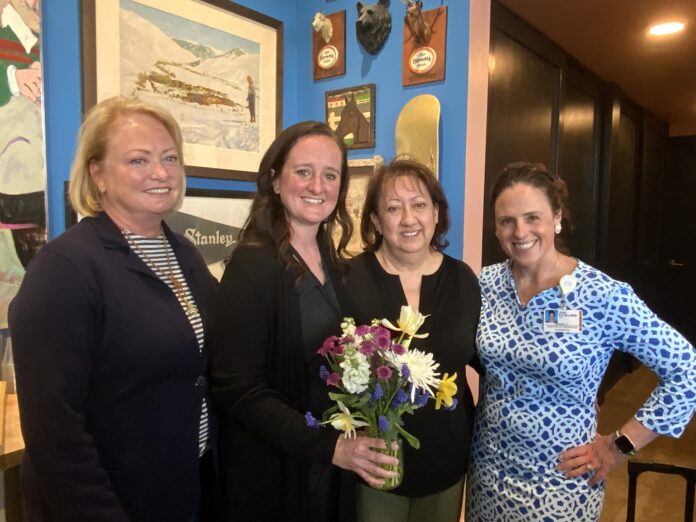 The St. Luke's Wood River Foundation's Board of Directors and the Harvey Gray Family recently awarded the 2022 Carl A. Gray Memorial Award for nursing excellence. Each year the entire hospital staff nominates a nurse who exemplifies excellence in their nursing practice. The nursing staff then votes on the colleague, whom they believe is most deserving of recognition. This year, Lauren Hoover, BSN, R.N., CEN, TCRN, was overwhelmingly the staff's choice to receive the excellence award. 
Lauren is a Certified Emergency Nurse, a Trauma Certified Registered Nurse and is the co-leader of St. Luke's Nursing Shared Governance. Lauren began her healthcare career as a high school student working after school and on the weekends as a cashier in the St. Luke's Wood River cafeteria. She went on to work in several other roles, including patient admissions. When Lauren went away to college, she continued to work at the hospital over Christmas and summer breaks. She graduated college and a few years later she decided to become a nurse. A healthcare scholarship through the St. Luke's Wood River Foundation helped her return to nursing school at the College of Southern Idaho. Lauren first worked at St. Luke's in Meridian and then made it home to St. Luke's Wood River (SLWR).
As a nurse in the Emergency Department, Lauren is highly skilled in critical patient care. She was described as a "true ER nurse to the core, always ready for the unexpected." She is compassionate, thoughtful, and mindful of her interactions with patients and colleagues. She always prioritizes the latest educational opportunities and encourages others to do the same.
Her colleagues describe her as one who is always there to answer questions and step in when needed, "a nurse you want on your team." Lauren makes the Emergency Department a welcoming place and we all know that NO ONE wants to need to be there. She advocates for her patients and inspires her colleagues.
The celebration took place in person for the first time since 2019. 
"It is wonderful to honor the work that our nurses do every day. These have been extraordinary times and our nurses all went above and beyond to help their colleagues and our community," said Megan Tanous, St. Luke's Wood River Foundation Chief Development Officer.  
The Harvey Gray Family established the annual award in the Foundation to honor Carl A. Gray, who was an avid Sun Valley Ski Club member.
Awards of distinction were also given in specific areas of the St. Luke's core values. The honorees included Annie Leady, BSN, R.N., CPAN – Surgical Services, who was recognized for Integrity; Elizabeth Solis, R.N., ASN – SLWR Family Medicine, for Compassion; Jami Adrian, BSN, R.N., RNC – Mother/Baby Unit, for Accountability; and Jason Lyman, BSN, R.N. – Surgical Services, for Respect.