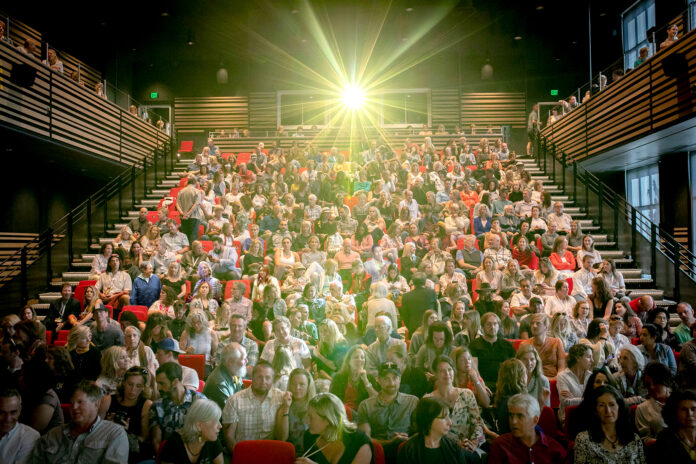 Festival celebrates 25th anniversary, return to pre-pandemic form
By Eric Valentine
For a festival founded on giving legitimacy to alternative approaches, celebrating a return to normalcy should be ironic. But after two non-normal years when it comes to large event planning, organizers for the Sun Valley Wellness Festival and Conference find the old-normal just what the doctor ordered.
From June 9–13, the wellness festival celebrates its 25th anniversary as one of the Valley's premier events, both in terms of popularity and identity. The theme for its benchmark year is "Coming Home"—a reference to the last two festivals impacted by COVID. In 2020, the festival was 100% virtual and in 2021 the event was in-person but had limited capacity for virtually every segment.
"Last year was a smaller event for the most part," said event spokesperson Heather LaMonica Deckard. "This year's capacity will be limited only by fire code, not COVID rules."
The festival won't be limited by imagination, either. What has always been an outlier event for the medicinal world, the "Coming Home" event will explore topics it had previously left—for the most part—untouched. How so? Take the two keynote speakers as examples.
There's Rick Doblin, Ph.D., whose presentation is called Building the Future of Psychedelic Therapy: MDMA-Assisted Therapy for Post-Traumatic Stress Disorder (PTSD). He is the founder and executive director of the Multidisciplinary Association for Psychedelic Studies (MAPS) and is at the forefront of psychedelic-assisted therapy research and advocacy. Doblin is deeply involved with seeking FDA approval for this method of treatment.
And then there's J. Ivy, a spoken word master—part poet, part live performance artist. And although he's performed with Jay-Z, Beyoncé, and Kanye, "spoken word master" is not a fancy phrase for "rapper." Ivy's presentation will share life experiences that not only allowed him to catch his dreams but helped him discover immense joy that's specifically found when you live in your divine purpose.
"Every year we assess the participants and our audience and find out what topics they want more information on," explained Deckard. "What used to be 'alternative' has become 'mainstream.'"
Among other speakers of note, Darshana Avila will present More Than Physical: Sex as a Path to Healing and Liberation as well as hold a workshop at the Limelight Hotel called Sensuality Salon: Turn On Your Senses to Turn On Your Whole Life.
More information about all the speakers and segments of the event can be found online at sunvalleywellness.org—a robust website that Deckard said was revamped during the pandemic in time for the event's 25th anniversary year.
Also new this year is the Cheryl Welch Thomas Scholarship Fund, established by the festival board in recognition of one of the key festival founders, an emeritus board member, and a longtime advocate and supporter, Cheryl Welch Thomas. Thomas is the longtime owner of the beloved Chapter One Bookstore in Ketchum, which she has run for over four decades. The Cheryl Welch Thomas Scholarship Fund will offer partial and full attendance scholarships to those who are in need and apply.
"Cheryl has been a champion and creative force for the Sun Valley Wellness Festival since day one, but she has done most of the work quietly and behind the scenes, because that is her humble nature. This scholarship, helping others attend the festival to grow and learn, is truly the best way we could possibly honor all that Cheryl has done for the festival over the years," Geneal Thompson, the festival's board president, said.