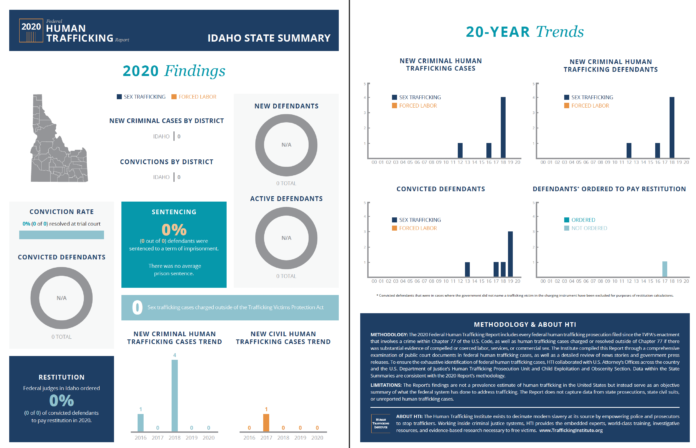 By Eric Valentine
Zero new criminal human trafficking cases were filed in federal courts in 2020.
That's a fact you'd think the organization whose mission it is to "decimate modern slavery" would be celebrating. At the very least, it seems it should be one of those pandemic-caused anomalies those same folks could explain away. You'd be wrong on both counts.
"All the data points to the fact that human trafficking crimes are everywhere. What this report shows you is that the laws are not being enforced," Alyssa Currier Wheeler, associate legal counsel for the Human Trafficking Institute, said. "If you look at the reports from non-COVID years, you can see that the number of cases are very low."
Wheeler is correct. Some excerpts from this year's report on human trafficking in Idaho:
● "In Idaho, zero new criminal human trafficking cases were filed in federal courts in 2020. Zero defendants were convicted. There were zero active defendants, so zero percent of active defendants were charged with sex trafficking, and zero percent were charged with forced labor. Since zero defendants were convicted federally, none were ordered to pay restitution to their victims. Federal courts have never ordered a convicted Idaho human trafficking defendant to pay restitution."
● In 2018, 4 new criminal cases of human trafficking were started
● In 2017, 1 new civil case of human trafficking was started
● In 2016, 1 new criminal case of human trafficking was started
And all that's not necessarily a critique on Idaho law enforcement nor federal law enforcement as it pertains to Idaho. Yet, it may be a critique on what our society tolerates and/or even recognizes as criminal in the first place.
From the National Center for Missing and Exploited Children:
"Unfortunately, since many children are never reported missing, there is no reliable way to determine the total number of children who are actually missing in the U.S. When a child is reported missing to law enforcement, federal law requires that child be entered into the FBI's National Crime Information Center, also known as NCIC. According to the FBI, in 2020 there were 365,348 NCIC entries for missing children. In 2019, the total number of missing children entries into NCIC was 421,394. In 2020, NCMEC assisted law enforcement, families and child welfare with 29,782 cases of missing children."
NCMEC goes on to explain that the 365,348 number represents reports of missing children. That means if a child runs away multiple times in a year, each instance would be entered into NCIC separately and counted in the yearly total. Likewise, if an entry is withdrawn and amended or updated, that would also be reflected in the total.
Regardless, any resulting number seems enormous.
"Missing children and the trafficking of humans (children and adults) are two distinct issues. But the vulnerabilities that exist for each are often the same," Wheeler said.
Wheeler said two of the most common things that make someone vulnerable to exploitation are:
● Whether a person has a substance abuse issue
● Whether a person has gone through foster care
Defining the Problem
For Wheeler, she hopes reports like the one her organization has been issuing over the years triggers urgency not apathy. Step one: Know the problem. Step two: Know the problem is global.
From the United Nations:
"Human trafficking is the recruitment, transportation, transfer, harbouring or receipt of people through force, fraud or deception, with the aim of exploiting them for profit. Men, women and children of all ages and from all backgrounds can become victims of this crime, which occurs in every region of the world. The traffickers often use violence or fraudulent employment agencies and fake promises of education and job opportunities to trick and coerce their victims."
Or, as Wheeler puts it: "This is not a Liam Neeson movie. This is not a child being pulled into a van off the side of the street."
Rather—in some instances at least—it's a little more like one party (the victim) somehow believing they are complicit in some way. That's not to say the victim believes they are committing a crime; it's saying they believe something they did has put them in a situation where they want the matter to go away and that whatever they are doing now—be it selling drugs during sex work or working for free or on the cheap at a nail salon—they must. Some classic examples include paying off a debt or fleeing one bad situation for something they thought better but could be worse.
Seeing the Problem
There is a step 3 to all of this, and if you are still reading, it involves you.
"Educate yourself. Report it when you see it," Wheeler said.
And report it correctly. The phone lines are clogged up, Wheeler said, with reports of trafficking that are not trafficking, taking resources away from the cases that need law enforcement's intentions. A number of resources online can help clarify matters and direct concerns. One example is StopTheTraffick.org which has examples of trafficking and signs it may be happening.
Examples of trafficking:
● Sexual exploitation
● Labor exploitation
● Domestic servitude
● Forced marriage
● Forced criminality
● Child soldiers
● Organ harvesting
Signs they may be happening are if a person:
● Acts as if instructed by another
● Demonstrates signs of physical or psychological abuse, such as lacking self-esteem, seeming anxious, bruising or untreated medical conditions
● Seems to be bonded by debt or has money deducted from their salary
● Has little or no contact with family or loved ones
● Is distrustful of authorities
● Has threats made against themselves or family members
● Is not in possession of their own legal documents
2020—A Whole Lot of Zeroes
● New criminal human trafficking cases were filed in federal courts = 0
● Defendants convicted = 0
● Active defendants = 0
● Active defendants charged with sex trafficking = 0
● Active defendants charged with forced labor = 0
● Defendants ordered to pay restitution to their victims = 0
● Federal courts that have ordered a convicted Idaho human trafficking defendant to pay restitution (ever) = 0