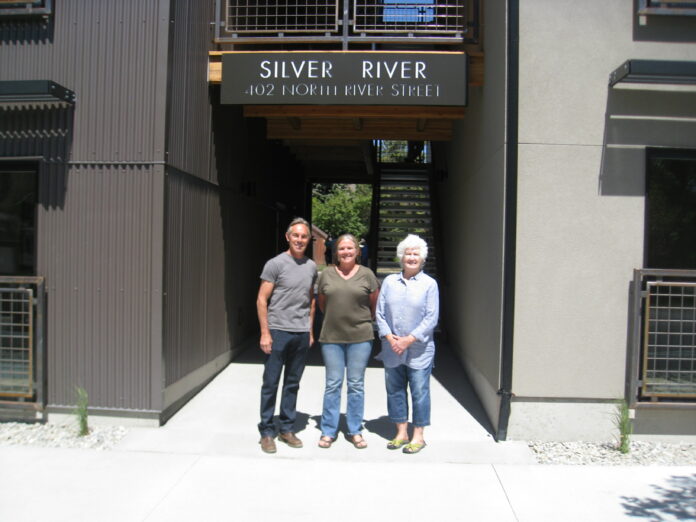 16 new 'workforce housing' units added, investors say more to come
By Eric Valentine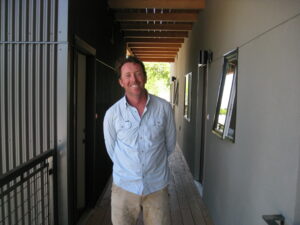 It turns out tents in parking lots and showering at the local Y is not the only alternative method for housing a workforce. Actual apartment buildings close to the town center that are all-electric, energy-efficient, and solar paneled, with extra insulation, electric car charging outlets, and battery energy storage are an option, too. What's more, it doesn't require tax credits and developers can even turn a profit.
Just a few weeks removed from a town square meeting in Ketchum to discuss outside-the-box solutions to the shortage of affordable homes—actually any type of home—for the Valley's working class, a 16-unit project in Hailey, called Silver River, may be the silver lining to the always challenging development dilemma that is fast approaching catastrophic. The dilemma: how to put a roof over the heads of the people who do things like put roofs over heads.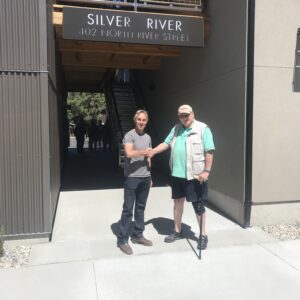 "The pain points discussed at the meeting by the public were that there isn't enough affordable housing for Ketchum's workforce and the businesses are at risk of closing due to the lack of employees," explained Lisa Enourato, Public Affairs & Administrative Services manager for the City of Ketchum, after that public meetup a few weeks ago.
Enter Silver River Place, an apartment complex located at 402 North River Street in Hailey that, in the middle of a pandemic, took 14 months to build and now provides 16 new quality rental apartment homes at "modest market" rates. Property manager for the building, Jon Gilmour, of Sawtooth Properties, has leased up the building to 100% occupancy with a mix of community members whose occupations include: fire chief, social worker, electrician, concrete contractor, waitperson, county employee, sheriff's officer, property manager, international buying manager, nonprofit employee, financial analyst, accountant, heating technician, and club employees.
What's more, the project was not funded by anything from the holy grail of workforce housing known as the Low-Income Housing Tax Credit program—a dollar-for-dollar tax credit incentivizing the use of private equity in the development of affordable housing aimed at low-income Americans. It's to make sure the kind of housing that doesn't produce the highest investment returns still gets produced. And, the program can only do so much.
"We didn't need tax credits to do this. We needed people to work together to build it ourselves," said Kiki Tidwell, a member of the self-described "consortium of investors" who funded and visioned the project.
Who Did What?
Specifically, the consortium of investors is Kiki Tidwell, a longtime renewable energy activist in Idaho; local residents and investors Gary and Caroline Poole; local architects Susan Scovell and Rebecca Bundy; and local builder Paul Conrad of Conrad Brothers Construction.
● Scovell had previously donated her architectural time to worthy nonprofits, most recently the Men's Recovery Center, and she has been working efficiently to keep architectural fees to a minimum on this project as their contribution to affordable housing.
● Bundy contributed her expertise in sustainable and energy-efficient design.
● Paul Conrad worked alongside the architectural team to design a building that maximized construction efficiencies to keep the rents as low as possible and job foreman Ben Parker kept the job running smoothly on schedule amidst the challenges of COVID.
Those folks made this 16-unit complex happen affordably, but with a housing shortage in the Valley some estimates put at around 500 units, the question becomes: How do you the next one?
And that's why Tidwell and the Pooles say they're grateful for people like investor Leonard McIntosh and his family foundation. McIntosh, Tidwell and the Pooles have entered into an agreement to sell Silver River Place to McIntosh, which will raise the capital to build more apartment buildings on four city lots just north of the existing complex. Tidwell said the consortium can best add value by continuing to keep building new workforce housing "by recycling proceeds" in this way.
Will There Be More?
Tidwell said she is already looking one or two steps down the road past those next four lots. Her goal is to open up investing opportunities to both accredited and non-accredited investors. To put it simply, accredited investors are wealthy, non-accredited investors are not. The benchmark is typically a net worth of a million dollars.
What Tidwell envisions is not a sort of GoFundMe campaign for housing. Rather, it would be a very real investment opportunity for people who have some extra cash but would like a better ROI (return on investment) than what a bank or CD typically generates. Tidwell points to a similar model of so-called main street lending out of Colorado by an organization called Impact Finance Center. Essentially, the idea is to find investors who want significant ROI but don't need to see it immediately or only to benefit themselves. The investment would instead impact both their personal pocketbook and their local community.
"I believe we have enough interested parties here to do the same thing here in our community," Tidwell said.