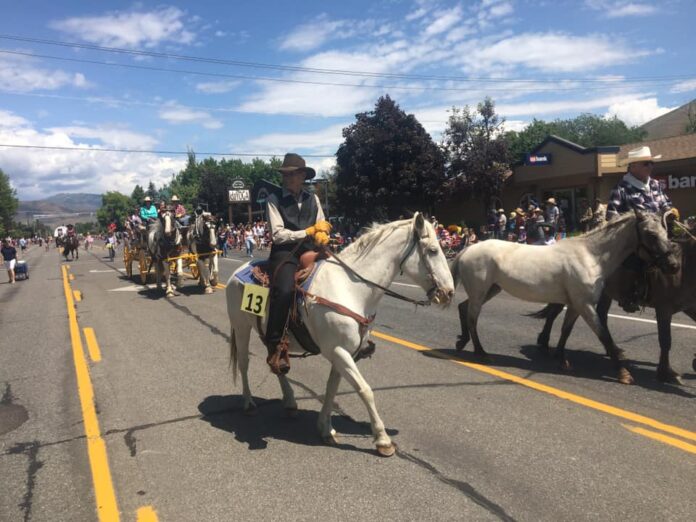 Hailey's famous Fourth of July returns!
By Mike McKenna
We deserve to celebrate.
After battling the coronavirus like we were in a 15-round heavyweight title bout, it's about time we all put down our boxing gloves (or masks if we're vaccinated) and pick up a flag, a cold beverage and make a cheers to America. Independence Day in Hailey is certain to be a special one this year.
The Days of the Old West Fourth of July Parade will return to Main Street after its unique version through the back streets of Hailey last year. The major road construction on that stretch will not begin until after the Fourth and, despite the holiday falling on Sunday this year, all events will take place on the Fourth.
The parade is open to anyone interested and having an entry. It's a fun and easy way to promote your business, nonprofit, cause or favorite youth sports team.  We always welcome more horses and creative floats of all kinds.
RiverFest returns for its sixth time at a different location and with a new host this year. Sawtooth Brewery will host the parade after-party at Hop Porter Park on West Bullion Street. Live music, food and other vendors, kids entertainment and, of course, Sawtooth's tasty local brews will be available.
Hailey's Fourth of July Antique Show returns to Roberta McKercher Park July 2-4. In addition to dozens of vendors offering exceptional wares, the Antique Show will also feature a beer garden and mechanical bull riding.
Just a block to the east of McKercher Park, the Blaine County Recreation District Arboretum will be the place to celebrate Idaho Founders Day on July 3rd. The family-friendly event will be put on by the Hailey Tree Committee and will honor the Idaho state tree, the Western white pine, and the state flower, the Syringa, which can both be found at the Arboretum.  Kids' activities, like a scavenger hunt and huckleberry- (the state fruit) flavored treats, are also being planned.
The Sawtooth Rangers Rodeo will also be back. The classic Western rodeo will run for three nights, July 2-4. A favorite tradition in Hailey since 1948, the Sawtooth Rangers Fourth of July Rodeo will feature Mutton-Busting for the kids and Hometown Bull Riding for the big boys and girls. Barrel racing, bronc riding, breakaway roping, steer wrestling and much more will take place all three nights.
Other traditional, smaller Fourth events, like live music on the patios of places like Jersey Girl, will also be happening and the Blaine County Historical Museum will be open as well that weekend.
The holiday weekend will end in style with Hailey's Fireworks Show lighting up the night sky just after sunset.
The full scale of Fourth of July festivities are returning to Hailey this year. We hope you will help us have a safe, fun and flag-waving day. After combating COVID for more than a year, we all deserve a reason to celebrate!
Fill out a parade entry at ValleyChamber.org. For more information or to let The Chamber know about any events you're putting on that we can help promote, please call 208-788-3484 or email Info@ValleyChamber.org.