Middle school principal Fritz Peters named interim superintendent
By Eric Valentine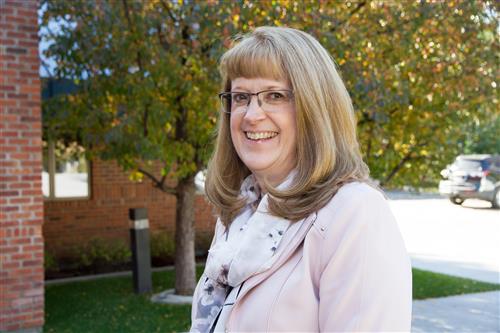 A cadre of school district stakeholders in recent years have long wanted it. And in March, the entire district was told it would happen effective June 30, 2021. But last week, superintendent GwenCarol Holmes tendered her resignation to school board trustees effective right away.
"This letter is to tender my resignation from the Blaine County School District effective immediately," Holmes wrote. "I am very proud to have been a part of continuing the quest for equity as we redesign the system to serve all students."
Holmes spent six and a half years leading the district, a tenure marked with significant accomplishment and controversy. The district has an overall rating of A- from niche.com, which ranks it seventh out of 113 districts statewide. But in recent years, some staff and parents began publicly organizing to voice their complaints about what they described as Holmes' heavy-handed approach in which staff and students would face repercussions if they spoke out against district matters. A number of lawsuits—from students, from staff, and from a trustee—were filed against Holmes in the last few years.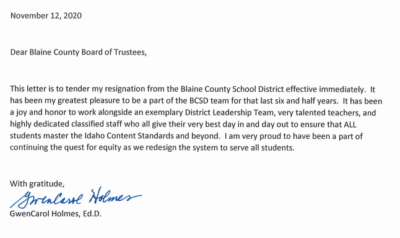 The friction culminated in significant board turnover, both from resignation and election, and ultimately Holmes declared to the board in March that she would not be seeking contract renewal next June. Over the past few months, trustees had been searching for a new superintendent to start in July 2021. That search continues, but the board has appointed Wood River Middle School Principal Fritz Peters as interim superintendent and he will serve in that role until the new superintendent assumes office.
"Principal Peters has for a number of years served as superintendent designee, acting in the capacity of district superintendent when Dr. Holmes was unavailable. We believe Principal Peters is eminently well qualified to lead the district in this critical period of transition and we look forward to working with him," board president Keith Roark said.
According to the district, Peters has expressed no interest in the position of superintendent beyond the interim position. Wood River Middle School Vice Principal Rob Ditch will assume the role of  interim principal of Wood River Middle School for the remainder of this school year.
Roark could not be reached before press deadline for further explanation behind Holmes' resignation.