By Eric Valentine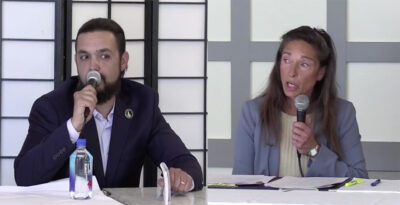 Something rare happened in the Valley and online last Thursday night. People from opposite sides of the political spectrum got together, and nothing but a polite articulation of differences broke out.
That's one takeaway from the District 26 state senatorial debate hosted by Central Idaho for Liberty—a self-described nonpartisan but conservative organization that has already endorsed one of the candidates, Republican nominee Eric Parker.
There were distinct differences between the two debate participants—Parker and incumbent Sen. Michelle Stennett, a Democrat who was elected to the Idaho Senate in 2010, succeeding her late husband Clint Stennett. What follows is a summary of each candidate's response to a range of questions directed to them by moderators at the debate.
What's important to know about the debate format is that each candidate had a partisan moderator who posed questions to the opponent. The opponent was given time to answer and the other candidate then had time for a response. Since Central Idaho for Liberty is a conservative entity, the organization felt it would be more fair to install the two-moderator format.
Public Lands
An early question directed to Sen. Stennett had to do with the management of public lands. It's a touchy subject for many Idaho conservatives and it's the impetus for Parker's arrival on the political scene. As previously reported, Parker ultimately pleaded guilty to misdemeanor obstruction charges when, during the 2014 armed standoff with federal agents near the ranch of Nevada cattleman Cliven Bundy, the longtime Valley resident was photographed lying prostrate on a bridge pointing a rifle at agents below.
Stennett acknowledged the need for better management and better coordination with federal agencies in terms of fire abatement, but largely supported the status quo. She cited a number of programs that allow Idahoans to benefit from public access to federal lands adding that they are largely underfunded.
"We are about 63 percent public lands here and I would defend to preserve that," Stennett said.
As for Parker, "Short answer: No. I think it could be managed a lot better." He added, "I probably subscribe to the idea … log it, graze it, or watch it burn."
Parker said he wants to see the state hold the federal government more accountable to make sure the public land is utilized both in terms of industry access and public access. It is the manager's responsibility to make public lands accessible to the public, Parker argued.
Taxes
Parker used questions about taxation to define himself as someone who will advocate for increased revenues by an improvement in the overall economy. It's a traditional conservative idea, but Parker added a new wrinkle—promoting the need for a bill at the state level that would allow for hemp to become a viable industry in Idaho.
"It drives me nuts we can't get a hemp bill in an ag state," Parker said.
Stennett was in line with Parker when it came to a desire to see taxation be done more equitably, but used the bulk of her time to note the various needs of people across the state and how tax revenue is what addresses those needs now. She deep-dived the transportation needs of the state, noting that the legislature has approved the expansion putting more and faster and larger trains on tracks and trucks on roads but has not addressed the lingering infrastructure needs.
"Idaho right now is almost a half a billion dollars behind on maintenance of roads and bridges," Stennett said. "There are 2,000 bridges (in the state) deemed unsafe to travel on."
Abortion
Stennett was asked about her stance on late-term and partial birth abortion. The senator said it was an issue that would never see the light of day in the Idaho Legislature and she would never advocate for a special law protecting it. But Stennett did go into great detail of real-life scenarios families have shared with her where ultrasounds showed abnormalities such as no brain development in the fetus and the life of the mother was in jeopardy.
"You have to put faces to what laws do to people," Stennett said.
Parker acknowledged a Constitutional protection to abortion and said he'd like to support an environment where abortion isn't needed.
"But the question was about late-term and partial birth abortion and my answer is 'No,' I would never vote for that if it came to Idaho," Parker said.
Water
A question about water management issues within the district was something Parker admitted he did not have much knowledge on, but outlined how he would go about using his team and experts in the field to put together a file to bring him up to speed and in touch with his constituents' needs.
Stennett used the opportunity to show her in-depth experience on the topic and highlight the importance of water issues in the state and the strides the state has taken in recent years.
"Our district has unfortunately been ground zero for the water calls," Stennett noted. "We have to allow that water to go to people in the order of their right to it."
Guns
"Would you want someone to drive a car without doing any training? Would you want someone to do surgery on you without any training?" That's what Sen. Stennett said in response to whether she supports red-flag laws when it comes to gun ownership. Stennett, who said she owns guns and enjoys hunting, is open to gun legislation that promotes proper training.
Parker was clear: "I believe that's an infringement."
The challenger noted that driving and surgery are not constitutionally protected and that politicians trying to infringe on gun rights are breaking the law.