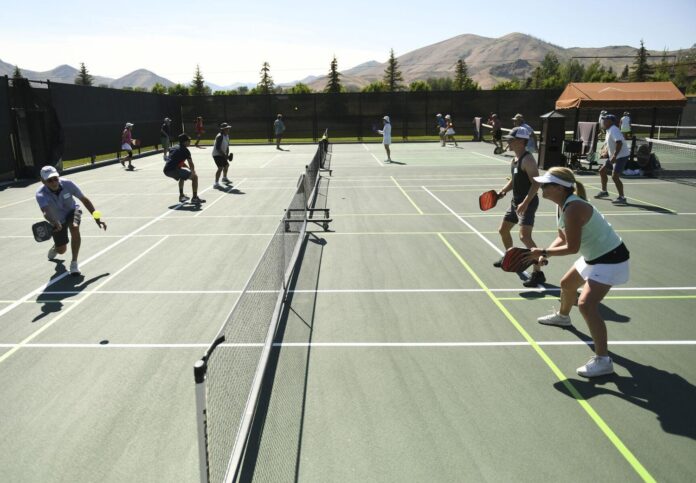 Last chance to sign up!
By Woodriver Pickleball Association
The SUN VALLEY Pickleball Classic is the largest pickleball tournament ever held in the Wood River Valley. Over 120 players from the valley, surrounding areas and many other states will play in a competitive tournament based on their level of play (rating) in Singles, Doubles and Mixed Doubles. This is an opportunity for players to show their skills after all the many hours of social play on the courts throughout the year. For players that have never played in a tournament before, there is a fun social round-robin that allows anyone to get tournament experience without any of the pressure. This "first timer" bracket is open to all ages and genders. Give it a try!
The Classic will be held at the Sun Valley Tennis & Pickleball Center from Sept. 29–Oct. 1 starting at 9 each morning. Spectators are welcome to come, cheer and watch. Practice courts are available Thursday, Sept. 28 at noon, followed by a players' reception at 5:30 p.m. Each player will receive a gift bag, T-shirt and one free drink coupon for entering the tournament.
The tournament is hosted by the Wood River Pickleball Alliance.
Pickleball is extremely popular around the world, and is growing as a fun, social, and healthy activity in our valley, too, with over 340 paid members now supporting the organization. The Alliance will be hosting their sponsors and founding members at the tournament player reception on Thursday, Sept. 28 at 5:30 p.m. as a special thank you for their generous support. Live music, a free drink and a beautiful view on the Sun Valley Tennis & Pickleball Center's deck is another great start to a wonderful evening in the Wood River Valley.
If you've ever thought about playing in a tournament, the SUN VALLEY Classic is a great place to start. Registration closes on Sept. 20. Come join the fun!