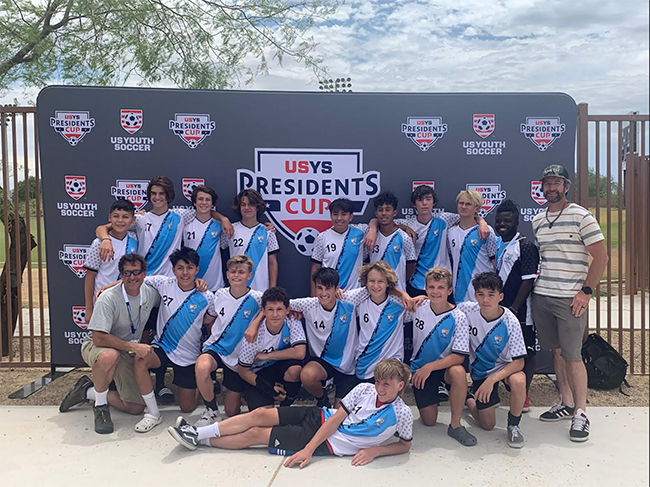 Local U-16 soccer team plans trip of a lifetime
BY ROBIN SIAS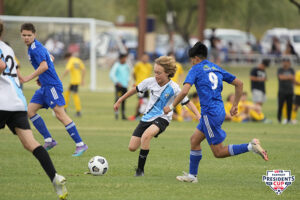 On June 22, the dreams of 21 U-16 soccer players from the Wood River Valley will seem dull compared to reality. That day, players from the Hailey Lightning Football Club, many who have played together since kindergarten, will board a flight in Hailey and travel to Manchester, England, for a once-in-a-lifetime experience.
Lightning coach and team manager Larry Schwartz explained, "We're going to Manchester for 10 days at the invitation of the [Premiere League team] Manchester City soccer program. The coaches from the club's academy program that develop their most promising players will work with our kids and put them through the same training as academy players."
The itinerary includes four training days, all at the Manchester City training facilities, and four game days with top local teams. When they're not on the pitch, the boys, two coaches, and a small group of parents will have private access to behind-the-scenes tours of not only the billion-dollar Man City complex, but Manchester United, and Liverpool.
"We will have access to the locker rooms, the trophy rooms, and many places the public never gets to see on the regular tour," Schwartz said. The team will be met at the airport with a liaison from Man City and transported to all their events in a private bus that is being provided, with the liaison managing all logistics. "It is beyond exciting, everyone is taking great care of us," Schwartz enthused.
A hardworking, high-achieving footy team
Coach Weylin Barrett said, "For me, on the surface, it's pretty rad to have this opportunity because the team gets to do something special and have fun. But on a deeper level, it's because they have worked really hard, individually and as a team, that this is possible."
Hailey FC Lightning's stats support this narrative of a cohesive, disciplined, talented group of players. Last season, the club finished with the third most points in Idaho. They qualified for the Far West Presidents Cup in Phoenix, Arizona, a USYS regional/national invitation-only tournament where they made it to the semifinals. Most teams in the tournament, according to Schwartz, were ranked #2 or #3 in their state. "Everyone kept asking us, 'Where is Hailey?'" he laughed.
The players know that the level of play they will encounter during their four games in England will require them to bring their A game and then some. Victor Hernandez, goaltender, said he's ready for the challenge both in games and in the training. "The thing I am most excited about is playing all the English teams. I know they will have a different style and high-level skills," he said. Striker Andres Hernandez concurred, "It will be great to have a high-level of play for practice, drills, and games. The English soccer is at a whole different level."
But sometimes it's also the simple things to look forward to. As Zack Torres, defender, said, standing on early 'spring' grass at Keefer Park in Hailey, "I'm excited to play on a good field!" He is also looking forward to proper fish and chips at a British pub. Fellow defender Quintin Buoncristiani said, "I can't wait for the overall experience and exploring a new culture."
Earning the Spot
All that aside, there are a lot of talented teams and enthusiastic players who would do a lot for the opportunity to align with Man City—one of the most successful and beloved football teams in the world. So how exactly does a small cohort of soccer players from a small Idaho mountain town get this kind of access, training, and star treatment?
It started, as it often does, with a friend of a friend. Schwartz said, "I have a friend who has a friend who works for the company that owns Man City. This friend knew about the Lightning and introduced me to someone who is on the soccer side of things in that organization. Within 24 hours, no kidding, I received an email expressing their interest in having us come over to train and play. I could not believe it. I heard from the Director of Player Development for Man City who put me in touch with the organization's people who deal with the U.S. This was last summer, but everything moved fast. Man City does this for a small number of teams, and I knew skill-wise we would be good enough, but it's still hard to believe that this is happening."
However, Schwartz could not be clearer that these kids earned this opportunity. "We are a high-level team," he said, "and in the top five in Idaho. Our players train extremely hard and are committed." Schwartz attributes the team's success to a few key factors. "We are a team limited by a two-year age range, not a four-year team," he said. "This group, for the most part, has been playing together for years and they have grown together and operate well as a group. We also try to mitigate the obstacles that lead athletes to drop a sport, especially as they get older. That includes charging only $199 total to play with the team (exclusive of hotel costs while traveling), finding rides for every player if we are going to Boise, Pocatello, or Salt Lake City, practicing on a field that is easily accessible for most of our players, and turning down tournaments and games that are just too far to be reasonable. We wanted a high-performing team and we wanted to keep these guys together." He added, "By keeping our cost to play down, we attract a great mix of families, and no one is left out because of financial reasons."
Jolly Olde England
For some in this close-knit group, this dream opportunity will be the first time they leave the country, and for others, it will be their first time on a plane. During a practice in Hailey last week, the group's enthusiasm was contagious. Nandy Inga, halfback, said, "I am excited to make memories with my best friends," and goalie/defense/striker Mateo de la Torre added, "It's great that I get to go with my closest friends to an amazing place and play the sport we all love."
During their time in the UK, aside from soccer-based experiences, the coaches also plan to take the team to Chester ("which looks straight out of a Harry Potter movie," Schwartz said) and to visit a medieval castle. "I told the guys we need to see some really old things," Schwartz laughed. "We are going to find the oldest castle we can and explore it—hopefully seeing a lot of old armor and other things teenage boys will be excited about!"
Fans at home can keep up with the team during this trip through video updates on their website (www.haileyfootballclub.com). Footage will be shot and uploaded daily so it will be easy to follow the players' games, training, and adventures.
Paying it Forward
Coach Barrett said that while this is, of course, thrilling for the current team, he knows the players will also pay this experience forward. "This opportunity sends a huge message to other people that if you work hard, set your mind to it, and set lofty goals, there is a possibility for great things to happen," he explained. "This team is going to come back to Hailey and talk with younger players about their experience and I know they will inspire others to take on challenging things."
Left back Dominic Seig, who has three little brothers who are also soccer enthusiasts, said he is looking forward to sharing his experience with his family and community and inspiring others to dream big.
Barrett said, "I've watched little kids turn into a great group of young men. I've seen them face adversity, show a lot of grit, and find a place in this team to focus their energy. I'm really proud of them."
"They earned it. We are all so excited," Schwartz added. "If you do good things, good things happen."
Support the Lightning!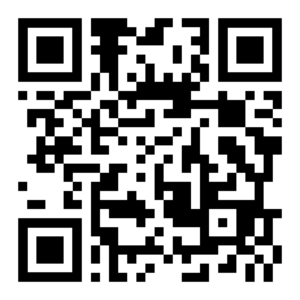 This trip for the Lightning is made entirely possible by donated funds. "I cannot leave any player behind and needed to remove any financial obstacle for the players," Schwartz said. The team has been actively fundraising, and thanks to a recent anonymous matching donation of $25,000, their goal of raising more than $80,000 is in sight. "We are so thankful to those who are supporting us," Schwartz said. Those interested in helping to send this team to England to represent the Wood River Valley can donate at the team's website at www.haileyfootballclub.com. Travel, per player, costs upwards of $4,000.
Check out ways to support this great group by sponsoring a player or contributing in any amount.