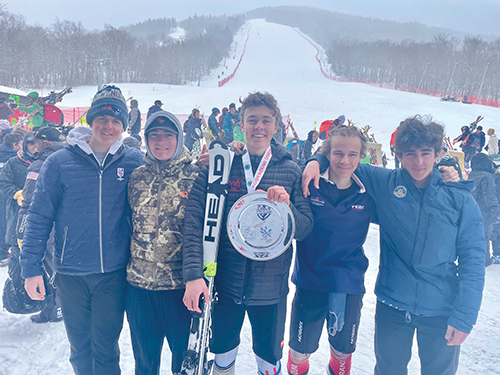 Ten members of the Sun Valley Ski Education Alpine FIS Team qualified to compete in the 2023 U18 Nationals in Mittersill, NH, March 9-16. The athletes competed in both speed and tech events including downhill, super G, giant slalom, and slalom. At the conclusion of the series, SVSEF's Finnigan Donley was crowned Overall U18 Men's Champion and on the women's side, Paige DeHart brought home two top ten finishes in the nation including fifth on the podium in giant slalom and eighth in slalom.
Five men and five women made up the team that traveled east to compete against their strongest contemporaries across the country. Finnigan Donley, Kai Subith, Larson Overby, Max Meucci, and Sacha Stern-Pre filled the men's SVSEF roster; while Maya Lightner, Madison Vieara-McCarthy, Natalie Gowe, Paige DeHart, and Ruby Crist qualified for the women.
"I had a great time at the U18 Nationals," said Finnigan Donley, SVSEF FIS Team athlete and 2023 Overall U18 Men's Champion. "National championship races are both mentally and physically challenging because there are four races in the span of four days. I am proud of my results throughout the week because I was able to stay at a high level from the first day to the last day!"
SVSEF FIS Coach Sue Schwartz accompanied the team to Mittersill for the race series. "I'm incredibly proud of these athletes for qualifying for U18 Nationals," said Schwartz. "While seeing athletes reach the pinnacle of their sport and earn a title is exciting and rewarding, it's not all about podiums and top fives. I'm proud of how they did, how they conducted themselves, of their performances on the hill, and of the consistent improvement we're seeing in their skiing. They were awesome—they tried extremely hard and SVSEF was well-represented. Major kudos to all of our athletes."
"This was my first trip to the east coast," said Paige DeHart, SVSEF FIS team athlete. "It was a great trip and the racing conditions were excellent. Overall it was a successful race series for myself and SVSEF."
On the first day of competition in the Women's Downhill, Maya Lightner finished just off the podium in sixth place and Ruby Crist had a standout finish moving from her start position in 43rd to land in 16th place overall. Natalie Gowe finished in the top 30 in 28th place. In the Men's Downhill, Finnigan Donley stood atop the podium, Kai Subith found his way to a top 15 in 11th place, and Max Meucci and Larson Overby finished just outside the top 30 in 31st and 32nd respectively.
Donley followed up with another win in the Men's Super G and DeHart landed top 15 in 14th for the women in the Super G. Donley continued a strong series placing sixth in Men's Giant Slalom with Subith just on his heels in 7th place. DeHart stood on the podium in fifth for the women in Giant Slalom. Donley raced to his third podium of the series in the Men's Slalom, placing third. DeHart again had the top finish for the women earning a top-ten in 8th place for the Women's Slalom.
Of the team that traveled to U18 Nationals, five SVSEF FIS Team athletes have also qualified for the upcoming 2023 U.S. Alpine National Championships in Sun Valley. In preparation for racing on the big stage, Finnigan Donley and Kai Subith will travel to Minnesota to compete in the Northern Michigan University Lutsen Spring Series, March 23-26, Paige DeHart and Madison Vieara-McCarthy will head to Montana to compete in the giant slalom at the Western Region FIS Open at Big Sky, March 30-31, and Maya Lightner will resume training in preparation for the U.S. Alpine Nationals, April 2-5.