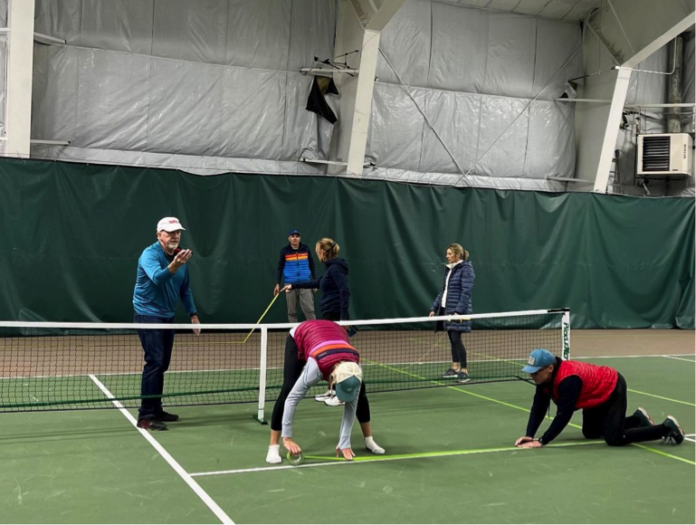 Pickleball a year-round sport in Wood River Valley
By LEE SPONAUGLE, PRESIDENT, WRPA
The Wood River Pickleball Alliance (WRPA), with over 500 email members in the Wood River Valley, has recently unveiled a brand new website (www.woodriverpickleball.org) which offers locals and visitors alike everything they need to know about playing pickleball, from where and when to play in the Valley, rules and regulations regarding the sport, as well as upcoming events and activities. The WRPA's mission is to "build community through the sport of pickleball."
This upcoming 2023 season will be a big one for the WRPA, with ambitious plans to bring a national pickleball tournament to the Valley for the first time. Such an event could boast up to 150 players from around the world, competing at both the amateur and professional level. The WRPA is hard at work scouting possible locations for this event.
In addition to a national tournament, the WRPA will kick off the outdoor season with a spring opening party near the beginning of May, including a hometown barbecue, raffle for the latest pickleball paddles and accessories, an exhibition match with resident pros, and a local Ketchum round-robin, location TBA. The WRPA is also planning "team play" where each location and/or club in the Valley can sponsor a team for rotating matches, including potential teams representing Atkinson Park, Sun Valley, Elkhorn, The Valley Club, and Gravity Fitness & Tennis.
For enthusiasts looking to play during the winter, the WRPA and Gravity Fitness & Tennis in Hailey (www.gravityfitness-tennis.com) have partnered to offer four indoor pickleball courts, with an unlimited $60/month membership and unlimited free guests during the months of March and April. With a cold Ketchum winter lingering, along with BCRD, players now have an additional space for anyone to play indoor pickleball.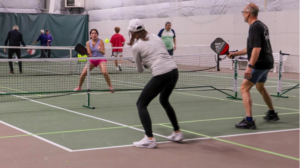 The lining "party" lasted about two hours, with players immediately taking the court.
As almost everyone who has picked up a pickleball paddle can quickly demonstrate, the sport is easy to learn, very social and is highly addictive. Pickleball is exploding across the U.S. with more than 36 million players that played at least once last year. Support from celebrities including LeBron James, Tom Brady and Super Bowl winning quarterback Patrick Mahomes, as well as many other professional athletes and celebrities, has also helped put the sport on the map. Pickleball is also attracting a new wave of sponsors, including Holland America, Anheuser-Busch, Skechers and Carvana all signing pickleball deals (CNBC).
Pickleball professionals at the top of the game are now receiving substantial dollar sponsorship packages, making this a legitimate career path for the new wave of young players. There are approximately 45,000 courts at over 10,000 locations in the U.S. alone, with new courts being built at a record rate.
Pickleball has been around for over 55 years, the first court "built" on Bainbridge Island, Washington. Its popularity has exploded in the Wood River Valley in recent years.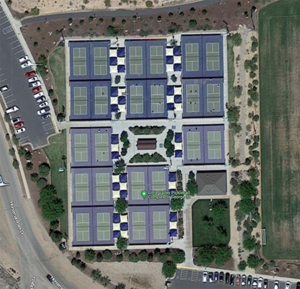 Facilities, however, have become much more sophisticated in the last decade, both indoor and out, offering tournaments, clinics, exhibitions and multi-day training events.
As with anything, however, there are growing pains, even in the Wood River Valley, with the WRPA recently lobbying the Ketchum City Council for more permanently surfaced courts at Atkinson Park, with both pickleball and tennis players on hand to show their enthusiastic support for their sports. The City Council tabled the measure for the time being, but gave support for improved pickleball lines on the mixed-use court as well as lowering the east-side fence and constructing a waiting player and spectator patio.
The Wood River Valley Pickleball Alliance is now offering a yearly paid membership (go to www.woodriverpickleball.org and click on "join"). For a small fee ($25 for supporting members and $100 for founding members), members will receive first access to tournaments, training, clinics, official pickleball ratings, discounts on paddles, balls and accessories, a WRPA bag tag and regular "dinks & drinks" social events.
Anyone with questions for the WRPA can email woodriverpickleball@gmail.com or go to www.woodriverpickleball.org and click on the QUESTION? button.
About Wood River Valley Pickleball Alliance
The Wood River Valley Pickleball Alliance was founded in 2019 as a welcoming, volunteer-friendly organization to build community through the sport of pickleball. The alliance is a nonprofit 501(c)(3) corporation and governed by a dedicated volunteer board of directors. Activities include promoting the pickleball communities of Ketchum, Sun Valley, Elkhorn, mid-Valley, Hailey and Bellevue, providing an authoritative body to govern and promote a code of conduct and enhancing the pickleball experience through social, educational and competitive events. For additional information, contact Lee Sponaugle at woodriverpickleball@gmail.com.
B