By MIKE MCKENNA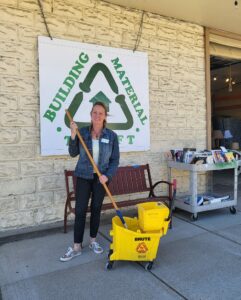 The great thing about our community is that it's full of heroes. No, they don't all wear capes or leap over tall buildings. They're usually donned in puffy jackets and bluejeans, and their acts often seem relatively small.
But those acts, like saving furniture that someone could really use from going to the landfill or answering phone calls from people in distress, are certainly mighty.
Former Bellevue City Councilor, Tammy Davis, is a member of our local League of Legends. Her most recent heroic acts include reopening the beloved Building Materials Thrift (BMT) store and using the proceeds to support local nonprofits like The Crisis Hotline (where she also serves as executive director) and Men's Second Chance Living.
"It was instantly a success," Tammy said about reopening the BMT in Bellevue in 2020. "We've had a lot of positive feedback that this resource was really needed and people are happy that we reestablished it."
The BMT offers a wide variety of ever-changing items. You can find everything from appliances to cabinets, dining room sets to tiles, raw materials and more.
"We're open to donations every day and we'll take just about anything in good shape, except clothing," Tammy said.
To help increase their impact and improve their outreach, BMT is also excited to announce two new expansions.
There is now a second BMT location on Highway 75 in Lincoln County—across from Johnny's Country Store. A new diversion program has also been created at the Ohio Gulch Transfer Station, a.k.a. "the dump," so donations can be made there instead of having to be brought down to Bellevue. It's the first time that this type of public/private partnership has been created with the Southern Idaho Solid Waste District.
"We want to keep things out of the landfill and make sure that what gets donated stays alive and gets used. We work hard to keep our overhead down so we can keep our prices low," Tammy said.
Besides the benefits of cutting down on waste and allowing folks to get items they need at affordable prices, the revenue BMT generates goes toward helping the community in other important ways.
"The BMT serves to not only mitigate the impacts of construction waste going to the transfer station, the funds it raises are reinvested back to benefit the social and emotional health of our community, supporting causes like The Crisis Hotline, NAMI, 5B Suicide Alliance and Wood River Baseball, to name a few," Tammy said.
She explained that the mission of BMT really aligns with those of so many local nonprofits, which is why they offer a Partner Program for them to use the BMT as a way to increase revenue and visibility.
"People call into The Crisis Hotline and feel like they have no value or purpose in life and that nobody cares about them," Tammy said. "The BMT aligns with this because we're able to give new life and new meaning to those things that would otherwise be disposed of."
The Building Materials Thrift store is located at 213 North Main Street in Bellevue and is open Monday through Saturday. Find out more by calling (208) 788-0014.