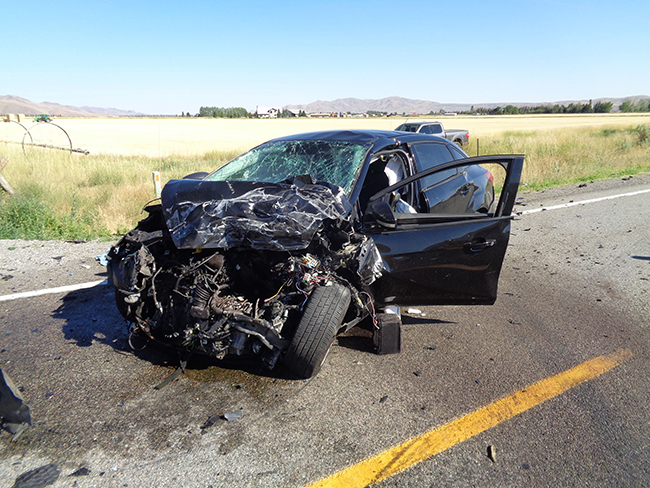 On Sunday, August 7, at approximately 4:34 p.m., Blaine County Sheriff's deputies responded to a two-vehicle crash on State Highway 75 near Pero Road, south of Bellevue.
The crash scene investigation determined that Guadalupe Joann Colis, age 21, of Hailey, was the sole occupant of a 2016 Ford Focus traveling northbound on Hwy. 75 when for an unknown reason the Focus crossed the fog line on the northbound side of the road before correcting and crossing the center dotted line. The vehicle struck a 2007 white Toyota Tundra traveling southbound on Hwy. 75, driven by Darren Scott Johnson, age 55, of Boise, with a single passenger. The force of the crash knocked the Tundra onto the passenger side of the vehicle.
All three occupants were transported by ground ambulance to St. Luke's Wood River Medical Center. Johnson and his passenger were both wearing seatbelts and received non-life-threatening injuries. Colis, who was not wearing a seatbelt, received serious injuries. Colis was later transported by air ambulance to Saint Alphonsus Regional Medical Center in Boise, in critical condition. 
Both vehicles received substantial damage and were towed from the scene. Both lanes of Hwy. 75 were closed for approximately one and a half hours. Traffic was diverted through Glendale Road and Baseline Road.