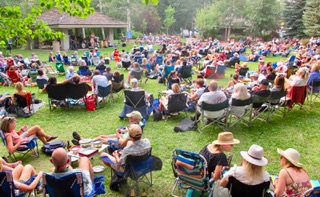 Ketchum's free weekly concert series "Jazz in the Park" has kicked off and will now run every Sunday for six weeks.
The first "Jazz in the Park" free weekly concert started on Sunday, June 26, at Rotary Park by the YMCA at 6 p.m. The events run about two hours. All the musicians are among Idaho's most highly regarded jazz players, many of whom are from Boise and the Wood River Valley.
In July, Los Angeles transplant Tony Galla and his band will perform as will singer Pamela DeMarche. The Frim Fram Four quartet and the Valley's own Bossa Nova Jazz Ensemble with a special guest on mandolin are also slated. Ending the series on July 31 is Nicole Christensen and her seven-member band.