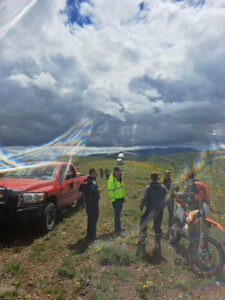 On Sunday, June 5, at approximately 1:58 p.m., Blaine County Sheriff's deputies responded to a motorcycle crash with injuries on Dry Creek Road near Carey.
Due to the steepness and remoteness of the crash location, the victim was difficult to access by first responders and the responding ground ambulance had to be staged approximately 3 to 4 miles away. First responders had to use personal vehicles to transport both deputies and medical personnel to the scene of the crash at the top of a ridge.
A crash scene investigation determined that Paul Thomas Klimes, age 26, of Hailey, was descending a hill on his dirt bike and lost control, causing him to flip over the handlebars and impact the ground. Klimes was transported by air ambulance from the ridgetop to Idaho Falls for serious but non-life-threatening injuries.
Klimes' 2003 Honda CRF450R motorcycle did not appear to have body damage but approximately half of the left-side brake handle had been broken off by the impact of the crash.