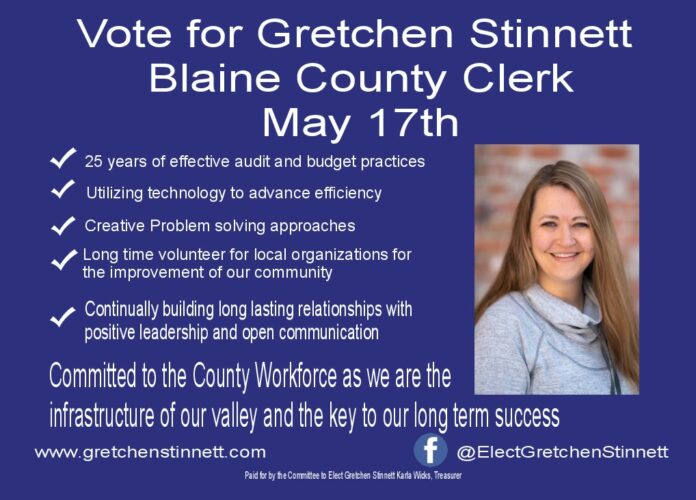 By Gretchen Stinnett
Born and raised in the Wood River Valley, I have always taken pride in our hometown and all we have to offer with our beautiful views and our community members. It was an honor that in 2017 I was asked to
join the Blaine County team as I possessed the traits they were looking for in a deputy auditor. After five years of learning the unique budget of Blaine County and the clerk's role, coupled with my previous 20
years of audit and budget practices, I am ready to serve. I have the experience needed for our success as we navigate the usage of ARPA funds and election integrity. I serve Blaine County in a variety of roles,
such as monitoring spending, tackling persistent problems and offering solutions that have been integrated into our practices, improving efficiency and audit preparedness.
Affordable housing is at the forefront of the challenges our community is facing. As the Blaine County Clerk, I would support the local organizations that are actively seeking effective solutions and bringing
quality of life back to our valley workforce. Giving back to the community is one way I currently help support our residents. I am an avid volunteer for local organizations, including ARCH, a local affordable housing developer, Camp Rainbow Gold, and many local events to raise funds for programs and events we need to succeed and thrive. Our valley is growing and I want to see it happen responsibly. I want to represent your local voice.