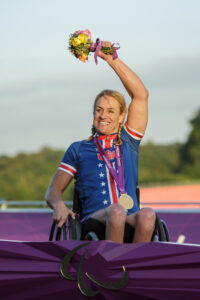 Gov. Brad Little has appointed state Rep. Muffy Davis to fill Jacob Greenberg's spot on the Blaine County Board of County Commissioners, a seat the Democrat is vacating at the end of this month. The other two nominees were Wood River Fire & Rescue paramedic Ron Taylor and Hailey City Councilman Juan Martinez.
Davis, also a Democrat, is serving her second two-year term representing District 26 in the Idaho House of Representatives. She is replacing fellow Democrat Greenberg who resigned in October. If Davis wishes to retain the seat into 2023, she will need to run in the November 2022 election.
Davis, 49, of Hailey, is a graduate of Wood River High School and Stanford University. She is a seven-time Paralympic Games medalist in two sports—alpine skiing and cycling.
So, what about Davis' House seat?
That's up to District 26's committee within the Democratic Party, who will send nominees to the  governor. Little will then choose a successor before the Idaho State Legislature commences in January.