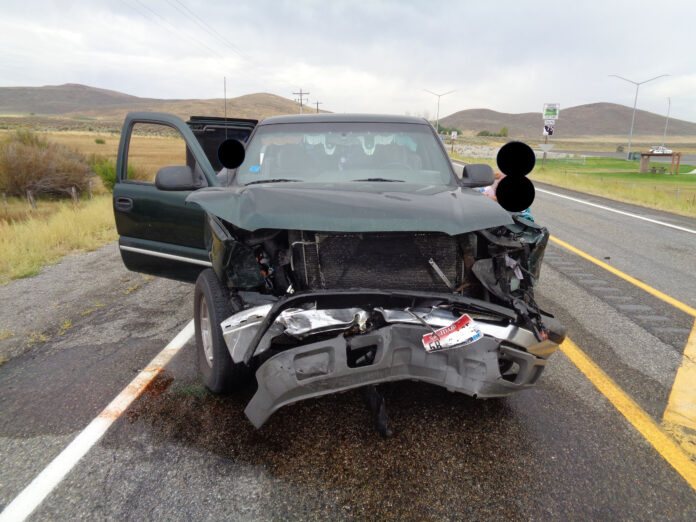 On Friday, Sept. 10, at approximately 4:36 p.m., Blaine County Sheriff deputies responded to the intersection of State Highway 75 and U.S Highway 20 for a multi-vehicle crash with ejection, south of Bellevue.
Crash scene investigation determined that Milton Paul Blackburn, age 45, of Nampa, was traveling west on Highway 20 in a 2007 black Honda Pilot with a juvenile female passenger. Blackburn stopped at the junction of State Highway 75, then proceeded into the intersection. The Pilot impacted the rear driver's quarter panel of a 2005 green Chevrolet Silverado driven by Benjamin Gomez, age 62, of Hailey, with passenger Alma Carrillo-Gomez, age 54, also of Hailey, as the Silverado was traveling southbound through the intersection.
The impact of the collision caused the Silverado to spin, cross the centerline, and impact the driver's side front end of a 2011 white Ford Taurus traveling northbound, driven by Sean Kent Seely, age 34, of Gannett, with a female juvenile passenger. While spinning, the passenger door of the Silverado broke open, ejecting Alma Carrillo-Gomez into the roadway. The Silverado continued to spin, impacting a 2019 grey Chevrolet Blazer also traveling northbound, driven by Kenneth Elliot Schultz, age 75, of Castle Pines, Colo., with passenger Deborah Frances Schultz, age 70, of Aurora, Colo.
All four vehicles received substantial damage and were towed from the scene. All of the occupants were wearing seatbelts except for Benjamin Gomez. Alma Carrillo-Gomez and Benjamin Gomez were transported to Wood River Medical Center with non-life-threatening injuries. Milton Blackburn was cited for Failure to Yield, I.C. 49-807(2).