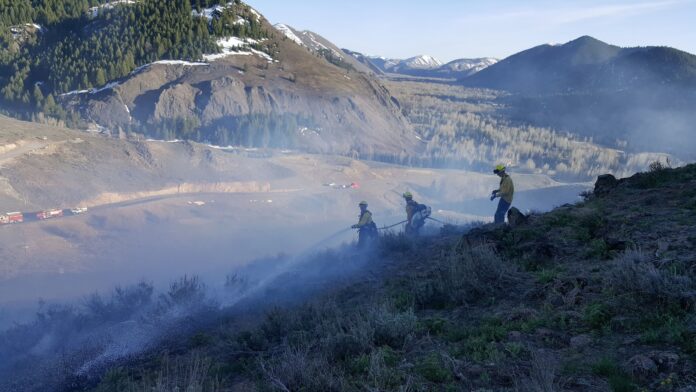 After doubling in size in recent days, the 26,589-acre, lightning-caused Boundary Fire—roughly two miles west of the Boundary Creek boat launch, in the Salmon-Challis National Forest, detected on Aug. 10—is now 30% contained, as of press deadline Tuesday. A smaller fire, but closer to the Wood River Valley, has also been reported near Alturas Lake. The 350-acre blaze triggered campground evacuations in the Sawtooth National Forest.
Firefighter and public safety are the number one priority for the Boundary Fire, the U.S. Forest Service said. Over the Labor Day weekend, the fire was active, with group torching, short-range spotting, and uphill runs. The fire grew to the northwest toward Morehead Lookout and was backing and flanking in Blue Moon Creek. The fire then moved toward Blue Bunch Mountain up Dagger Creek, continuing to impact Boundary Creek Road, which is currently inaccessible due to downed trees. Firefighters will work to clear the Boundary Creek Road when it is safe to do so.  
A point protection strategy is being used to protect values at risk. Values at risk are defined as property, structures, physical improvements, natural and cultural resources, community infrastructure, and economic, environmental and social values, such as the Middle Fork river corridor.