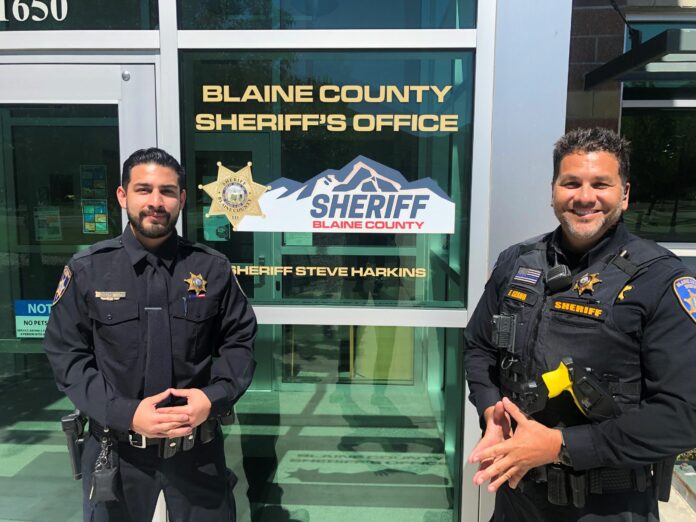 By Eric Valentine
On the heels of last year's Black Lives Matter demonstrations globally and this year's TikTok video controversy by one Valley law enforcement officer, the Blaine County Sheriff's Office is reaching out to one local ethnic minority group here. Sheriff Steve Harkins has launched a Hispanic Liaison Team last week "to promote positive relationships and communication within our Wood River community," a press release from the Sheriff's Office said.
The goals of the Hispanic Liaison Team are to build relationships that increase trust between the Sheriff's Office and the Spanish-speaking community, decrease the rate of victimization among the Hispanic community, and increase the level of confidence of those who are hesitant to report crimes.
"By attending community meetings and events, deputies hope to increase the frequency of collaborative interactions between law enforcement and our Spanish-speaking community, promote cultural competency training as part of our standard training program, and brainstorm strategies to reduce language barriers," Harkins said.
The team currently consists of two deputies, Lt. Fabrizio Lizano and Deputy Cristian Gonzalez, and we hope to add additional deputies soon. Members of the public who are interested in learning more about the Hispanic Liaison Team can request to be contacted on the Public Safety Page of the Sheriff's website.
La Oficina de Alguacil Del Condado de Blaine se enorgullece en anunciar la creación de un Equipo de Enlace Hispano para promover relaciones positivas y comunicación dentro de nuestra comunidad de Wood River.
"Siempre estamos buscando formas innovadoras de continuar generando confianza y cerrar la brecha con todos nuestros ciudadanos y visitantes. Es muy importante que no solo seamos líderes en la aplicación de la ley, sino que estamos comprometidos e involucrados en nuestra comunidad," dijo. Sheriff Harkins.
Los objetivos del Equipo de Enlace Hispano son construir relaciones que aumenten la confianza entre la Oficina del Sheriff y nuestra comunidad de habla hispana, disminuir la tasa de victimización entre la comunidad hispana y aumentar el nivel de confianza de aquellos que dudan en denunciar delitos.
"Al asistir a reuniones y eventos comunitarios, los agentes esperan aumentar la frecuencia de las interacciones colaborativas entre las fuerzas del orden y nuestra comunidad de habla hispana, promover la capacitación en competencias culturales como parte de nuestro programa de capacitación estándar y generar una lluvia de ideas sobre estrategias para reducir las barreras del idioma", continuó Harkins. .
Actualmente, el equipo está formado por dos alguaciles, el teniente Fabrizio Lizano y el alguacil Cristian González, y esperamos agregar más alguaciles pronto. Los miembros del público que estén interesados en obtener más información sobre el Equipo de Enlace Hispano pueden solicitar ser contactados en la página de seguridad pública de nuestro sitio web.
Todas las solicitudes de contacto son confidenciales.